The Second DTU Student Sports Awards Ceremony
The DTU sports program ended, after three weeks of dramatic competition, at a ceremony held on March 6 at the DTU Sports Stadium.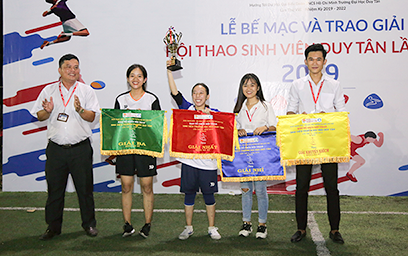 Female participants are awarded prizes
Four exciting and dynamic finals matches in both men's and women's football aroused excited cheers from the spectators. The young DTU men were enthusiastic, fair, played well together and treated the spectators to some attractive games. The young DTU women did no less and proved themselves to be very strong on the field, displaying some beautiful and well-trained dribbling and passing.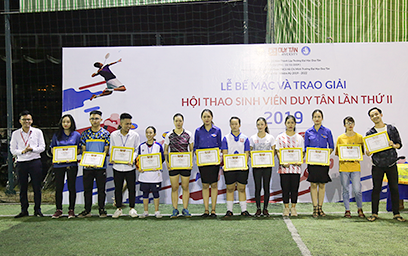 Faculties with the best results receive Certificates of Merit
The matches sometimes took the spectators' breath away, with highly-skilled shots on goal and beautiful, precise passing, as they cheered on the players. At the end of the contest, the men's IT Faculty team were the winners, followed by the International School in second place and Hospitality third. In the women's section, the Foreign Languages team came first, Accounting second and Hospitality third.
Souvenir pennants and prizes were awarded to the winning teams and individuals:
- Women's volleyball: Pharmacy first, Hospitality and Tourism second, Accountancy third and a consolation prize to Foreign languages.
- Men's volleyball: Hospitality and Tourism first, Law second, Accountancy third a consolation prize to Business Administration.
- Women's and Men's Long Jump: 7 individual prizes.
- 100-meter, 400-meter and 800-meter races: 13 individual prizes.
- Badminton: 18 prizes in both men's and women's singles and mixed doubles.
- Do Thi Mong Lanh, from Foreign Languages was the best female woman football player.
- Ho Manh Cuong, from I/T was the best male football player.
(Media Center)