A "New School Year" for English students
On September 26th, 2010 at Quang Trung campus, the English Club of Duy Tan University held an extramural activity called "The New School Year" for over 250 students.
In addition to enjoying some fun games, singing and dancing and chatting in English, students also had the opportunity to raise questions and exchange study experiences with lecturers from the Department of Foreign Languages. The issues mainly focused on how to improve their English and how to succeed in international examinations such as TOEIC, TOEFL, and IELTS. The lecturers advised that by regularly talking in English with friends and English teachers, they can gain more confidence in communicating.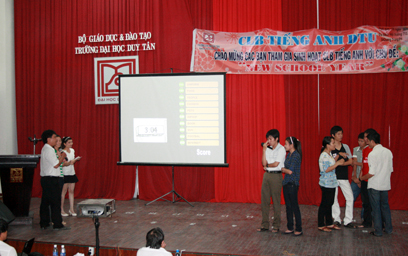 On behalf of the Department of Foreign Languages, Ms Tran Thi Tho said: "The monthly club is a good environment for students to practice and hone their English skills. On behalf of the Department, we always welcome everyone to participate."
The English club is an excellent new extramural activity for DTU students. By joining this club, each member will have a chance to practice English and discuss their concerns.