The DTU Foreign Languages Department Holds a Halloween Festival
On the evening of October 31st 2009, the Department of Foreign Languages held a Halloween Festival with the theme: "Enjoy Halloween with Our New Students", to provide them an insight into American traditions.
The program was attended by Ms. Bui Thi Chanh, the Dean of Foreign Languages, together with university staff and students.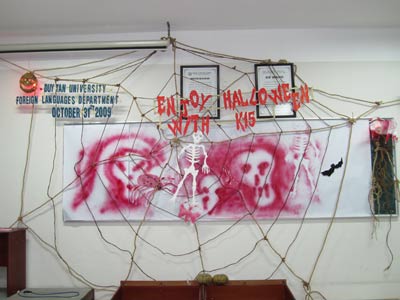 Famous characters, such as witches, the devil, pirates, princesses, and the beautiful Cinderella were portrayed in the festival. Scenes of gloom, terrifying noises and bizarre images were featured. During this fun-filled event, students enthusiastically participated in games, such as a Halloween quiz, dancing and performing arts. The disguises competition was particularly popular. The "most frightening disguise" prize was awarded to a couple dressed as "Death", the funniest prize was won by a couple dressed as a pumpkin and the most artistic prize to some "Vampires"
The student dressed as Cinderella said: "I am so happy to attend this special Halloween event and will now feel more at ease in social situations"
Western culture is now better appreciated by students who attended the event. The festival also strengthened relationships between the Foreign Language Department students and the rest of the university.
(Media Center)