Billiards Competition at Duy Tan University
On June 7th 2009, the Labour Union of Duy Tan University held a billiards competition at the Nhat Tan Club in Danang.
In the first event of its kind, four groups of thirty-six DTU staff member participated in a knockout competition. The contest was planned to provide staff with an enjoyable opportunity to meet and get to know each other. After a day of keen competition, the organizing committee awarded prizes to the top nine players.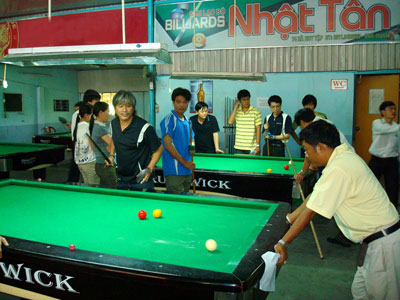 In men's singles, Mr.Nguyen Tan Thanh from the Faculty of Tourism won first prize, and Mr.Huynh Tan Trung from Business Administration came in second. The third prize went to Mr.Phan Vi Phuc from the Center of Vocational Training.
In the men's doubles competition, Mr.Le Cong Duy and Mr.Pham Phu Anh Huy of the Faculty of Engineering won first prize, Mr.Phan Quy and Mr.Nguyen Phuoc from Natural Sciences came second and Mr.Nguyen Huy Hoàng and Mr.Nguyen Hung Vi from the Department of Student Affairs came third.
(Website Editorial Board)