2009 Badminton Competition Closing Ceremony at Duy Tan University
The competition took place from April 4th to April 8th 2009 at the Sporting Events Hall at 458 Nguyen Tri Phuong, Danang. After five days of play, the second badminton competition sponsored by the DTU Trade Union of Duy Tan University came to an exciting conclusion. This competition was established to address the need to boost physical exercise activity and companionship amongst the staff of Duy Tan.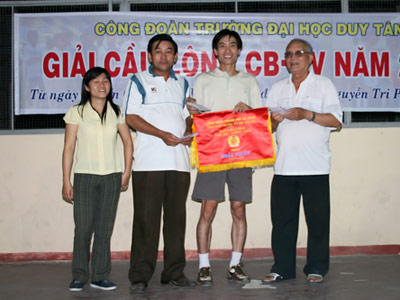 Sixty-four players took part in five divisions, namely the men's singles, women's singles, men's doubles, women's doubles and mixed doubles. This was the first time that the Planning and Financial Affairs Department had won first prize. The Academic Affairs Department came in second and the Career Promotion and Marketing Center was third.
The competition ended happily with an increased awareness amongst the staff of the advantages of competitive sports and renewed team spirit.
(Website Editorial Board)