Opening Ceremony of the Student Football Tournament
On January 24th, 2010, the DTU 2010 Football Tournament kicked-off at Tuyen Son stadium. The tournament drew eight teams, comprised of students from various faculties. The eight teams were divided into two groups, to play a knockout tournament. The four winners in the round would go on to the semifinals. In the semi-finals, if two teams drew, they would take penalty kicks. In the final, teams would play two overtimes if necessary.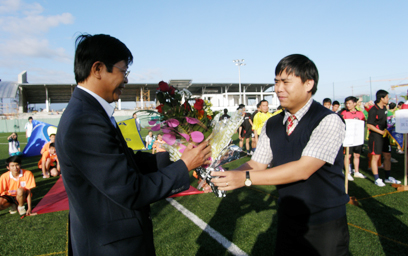 The first prize was one million VND, a souvenir flag and a cup. The second was 800,000 VND and the third prize was 600,000VND. The team with the fairest play would receive 300,000 VND. In addition, the organizers would also present awards for the best player, goalkeeper and the team with the most enthusiastic fans, each worth 200,000 VND.
After opening ceremony, the first two matches took place. The Faculty of Business Administration beat the Faculty of Accounting 3-2. In the second match, the Faculty of Tourism and Hospitality had a great win by crushing the Faculty of Foreign Languages 5-2.
The football tournament is a great outlet for DTU students. It is also an opportunity to build closer relationships as well as to promote physical exercise. This tournament was sponsored by Viettronimex Danang.
(Media Center)