Strengthening Student Exchanges with the South East Asian Ministers of Education Organization Members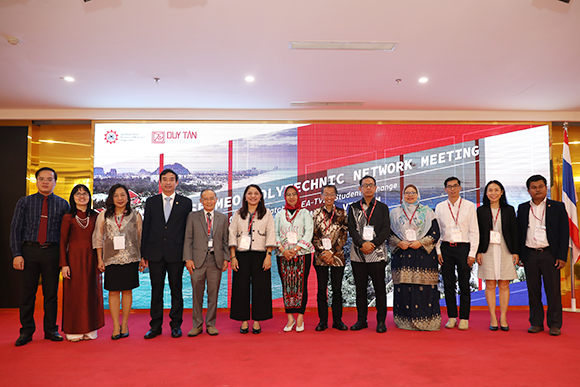 The SEAMEO secretariat and DTU hosts
From October 17 to 19, the South East Asian Ministers of Education Organization (SEAMEO) Secretariat and DTU jointly organized the 6th SEAMEO Polytechnic Network Meeting in Danang, with 160 representatives from 64 educational institutions in attendance. This was the first SEAMEO conference to be held in Vietnam. The previous SEAMEO conference was held from March 26 - 27, 2019, in Ipoh, Malaysia, and attended by 126 representatives from Indonesia, Malaysia, Thailand, the Philippines and Vietnam.
The conference focused on talks between SEAMEO members. A report on the 4th SEA-TVET (South East Asia Technical and Vocational Education and Training) student exchange program was discussed and a Letter-of-Understanding on the 5th Student Exchange program was ratified. Delegates also discussed ways of increasing educational, scientific and cultural cooperation between schools in Southeast Asia and SEAMEO partners.
Topics included an analysis of the 4th SEA-TVET Student Exchange, lessons learned and how to move forward into the future; Industry 4.0 and AI in TVET'; A workshop on the content of the SEA-TVET Network Action Plan 2020–2023" and Secretariat Agreements and Action Plans.
The objectives of SEA-TVET are to improve the education, technical skills and global competitiveness of TVET students, their intercultural understanding, regional perspectives and English communication skills, in order to increase employment opportunities and create sustainable partnerships between the TVET institutions in Southeast Asia.
Majors for study in the exchanges include Mechatronics, Electronics, Electricity, Mechanics, Manufacturing; Industrial Technology; Informatics, Computer Science; Hospitality and Tourism; Agriculture, Aquaculture, Animal Science, Fisheries; Forestry; Agro Technology, Agro Business; Food Technology; Business, Commerce, Accounting; Creative Industry, Multimedia; Civil Engineering; and Health Sciences, Nursing and Public Health.
The 6th SEAMEO conference taking place from October 16th to 18th
Founded on November 30th,1965 SEAMEO is an intergovernmental organisation of the 11 Southeast Asian countries, including Brunei Darussalam, Cambodia, Indonesia, Laos, Malaysia, Myanmar, the Philippines, Singapore, Thailand, Timor -Leste and Vietnam, which promotes educational, scientific and cultural cooperation in the region.
SEAMEO affiliate member countries include Australia, Canada, France, Germany, the Netherlands, New Zealand, Spain and the United Kingdom; as well as five affiliate organizations: the International Council for Open and Distance Education (ICDE), Tsukuba University, the British Council, the China Education Association for International Exchange (CEAIE), and the Asia–Pacific Culture of Education for International Understanding, under the auspices of UNESCO (APCEIU). The organization is managed by the SEAMEO Council, comprising the eleven Ministries of Education of the SEAMEO members. The SEAMEO secretariat, the executive branch of the Council, has its headquarters in Bangkok, Thailand.
(Media Center)