An Agreement with VACPA
On September 18, DTU signed an agreement with the Vietnam Association of Certified Public Accountants, VACPA. Attendees included Mr. Pham Sy Danh, VACPA Chairperson; Dr. Vo Thanh Hai, DTU Vice-Provost; lecturers and students from DTU Accounting.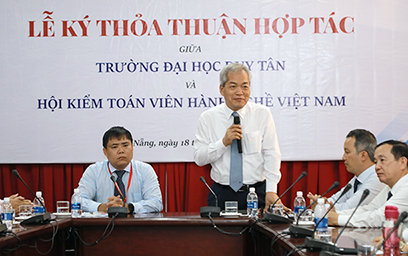 Mr. Pham Sy Danh speaks
VACPA is a professional organization of accountants and auditing firms in Vietnam, founded in 2005 to establish and develop an international-standard, professional and trustworthy accounting and auditing presence in Vietnam. Initially there were 377 members, which has now risen to 1,600 individuals and 80 companies. VACPA works continuously to contribute to the transparent publication of economic and financial business information, in accordance with Vietnam law.
Mr. Pham Sy Danh said: "DTU has really impressed us with their miraculous development over the past twenty-five years. Their significant achievements prove that DTU is now a reliable brand-name for parents, students, the business community and government alike. The university is well-known for graduating highly-qualified professionals into Central Vietnam and the Central Highlands and this agreement will allow VACPA and DTU to broaden study and career opportunities for Accounting and Auditing students. We will teach you the advanced knowledge and professional skills you need to obtain your professional accounting and auditing licenses and enhance your career performance."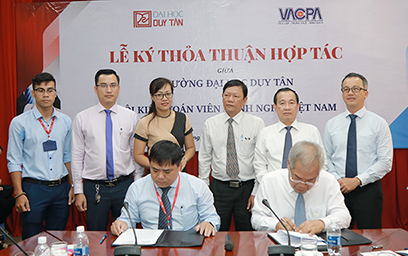 The signing
DTU and VACPA will jointly conduct Accounting and Auditing research; organize academic and exchange activities; hold career days for students; arrange internships at VACPA auditing company members; and develop practical training courses on auditing and associated software applications.
The same day, they both held a workshop entitled: "Innovation in Accounting and Auditing", which presented attendees specialized information to prepare for their future careers.
(Media Center)