DTU Promotes Innovative and Creative Student Startups
The DTU Startup Center has just launched the 2019-2020 "Innovative and Creative Student Startup" contest. The project is being jointly sponsored by the VinTech City Fund and DTU.
DTU Startup Center Director, Mr. Truong Tien Vu, explained that the contest is divided into three parts and lasts for nine months. The Launch and Information campaign round will run from September 25 to October 24, an Ideas round from October 25 to December 25 and an Incubation round and finals from March 25 to June 30, 2020.
According to Hero of Labour and Distinguished Teacher Le Cong Co, DTU President, students normally attend university for four to seven years and, during that time, they must acquire an in-depth understanding of their major and have clear plans for the future. In 2019, DTU resolved to become the Startup University by 2024.
Career orientation gives students a deeper understanding of their majors
DTU has recently integrated new curricula into all of its majors, incorporating career orientation and entrepreneurship studies. Career Orientation 1 and Career Orientation 2 courses are already being taught for the first time this year and provide a general overview of each major and the necessary allied educational, social and career prerequisites.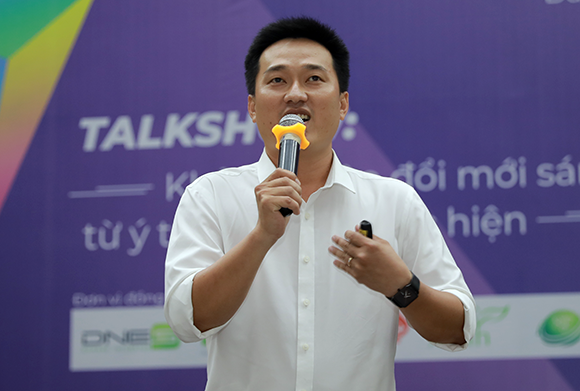 Nguyen Bao Quoc speaks about entrepreneurship. Photo: N.T.B
The VinTech City Fund will award prizes in the second, Ideas round of the contest. They will finance a new course on startup skills and an English language presentation skills course for qualified candidates and the twenty leading ideas will be enrolled on a startup project writing consultancy course, worth 50 million VND. Final round prizes will include financial support for the best ten projects and the opportunity to present to technical experts for potential future investment.
In the finals, the first prize will be 15 million VND and a Certificate of Merit, with a second prize of 10 million VND and a Certificate of Merit, a third of 7 million VND and a Certificate of Merit and two consolation prizes of 3 million VND each, also with Certificates of Merit. The first and second place winners will enter the 2020 "Innovative and Selected Student Startup contest teams will be financially supported by the Danang People's Committee and DTU in their research, deployment, technology transfer, and intellectual property activities.
In addition, DTU arranges visits to local companies as FPT, LogiGear, Enclave, MagRabbit and the InterContinental Danang Sun Peninsula Resort to enable students to experience a real-time work environment and career opportunities in advance. At the same time, they can better understand their personal capabilities, their majors and the job market more clearly. This reduces the gap between university and business and the considerable money and time currently spent on retraining new graduates.
"The 2018 Career Orientation and Job Fair for Hospitality Students at DTU was an excellent opportunity for students to better understand the relationship between their majors and future careers, and for businesses to share their experiences and locate high-quality potential employees." The Danang Department of Tourism Director, Ms. Truong Thi Hong Hanh, commented. "Hospitality is a tough field of study and, at the outset, students must gain a firm grip on understanding and developing their expertise, their passion and enthusiasm to gain the experience necessary to succeed."
From idea to reality
Mr. Nguyen Bao Quoc, the Vice-Chairman of JCI Danang 2019 and Deputy-Director of Bao Tran Investments, emphasized that coming into contact with business inspires students with many new unique and creative business ideas. A specialized university education, however, does not teach them how to establish a successful startup. Entrepreneurship is subjective but also requires relationships with an ecosystem which offers comprehensive additional support. DTU has recently created many new startup activities and projects, to connect people together. To achieve this, local companies are invited to give advice at workshops and conferences and students can share their ideas with them and meet investors. A course entitled "Starting a Business" is organized annually by DTU and Entrepreneur News to help students figure out how to choose the most creative and feasible business ideas and how to develop and market them most effectively.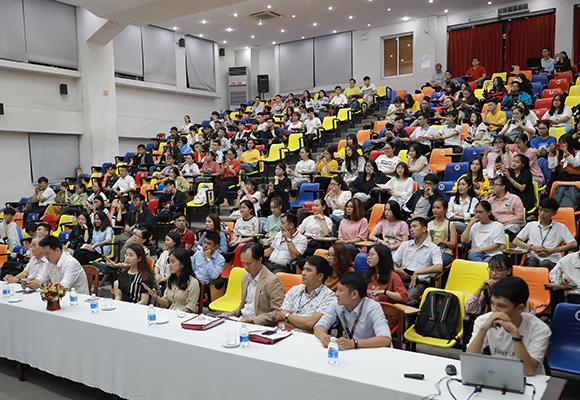 Three hundred students attended the launch of the Startup Contest at DTU. Photo: N.T.B
The DTU Startup Center was founded to advise students on how to present their ideas to potential business investors. It also runs contests for business ideas, startup ideas and social venture plans, prompting the development of practical, highly-feasible products. For example, the Worky Software connects restaurants and hotels to potential employees who meet their job requirements. It was created by a group of DTU students and came seventh in the 2019 Southeast Asia HULT Prize competition, where it was the leading Vietnamese entry.
(Media Center)