Potential Intern Recruitment Day - Sacombank 2020
On October 10, DTU and Sacombank held an event entitled "Potential Interns - Sacombank 2020". DTU Economics students attended to investigate the possibility of finding internship and careers at Sacombank Danang branches and others in the Central Region.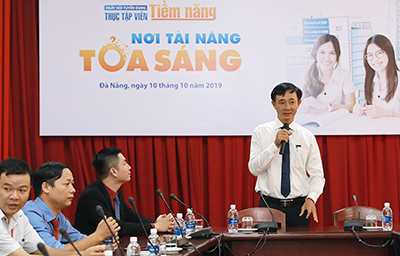 Mr. Le Vinh Thach speaks
Mr. Le Vinh Thach, Deputy-Director of Sacombank Danang, said: "Our annual internship recruitment program is almost 10 years-old and provides final-year students of Economics with the chance to be trained and gain experience in the work-place, during the first three months after graduation. Thousands of potential employees have participated so far nationwide. The program allows us to quickly identify and nurture graduates with the necessary skills and work habits that match our company culture and to hire them as soon as they successfully complete their internships. At the 2018 Job Fair, Sacombank selected twenty DTU students to become part of our team at the bank, and we carefully assess their capabilities every year. We plan to recruit even more in 2020 to work jointly on the general development of Sacombank."
The Potential Intern Recruitment Day - Sacombank 2020 is scheduled to take place until November 15 at 46 universities nationwide, for senior students of Finance and Banking, Business Administration, Marketing, International Commerce, Foreign Trade, and Accounting and Auditing. 700 interns will be assigned to various positions, as Personal/Business Customer Officers, Credit Card Sales Officers, Customer Credit Officers, Counsellors and Bank Tellers.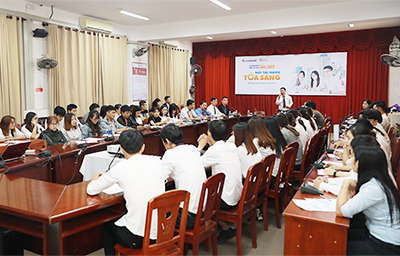 Attendees
Applicants first took a multiple-choice test and are then interviewed if they pass. Successful applicants are guaranteed a professional paid internship, with pay of 4 million dong to 6 million dong, depending on positions applied for. They can choose any local Sacombank for their internships.
Nguyen Thi Huyen My, of K22 KDN1, said: "The collaboration between universities and business to hold career orientation sessions and recruit is of much benefit to seniors like myself. We can meet prospective employers and find out the latest job requirements, so that we can refine our study plans and the necessary special skills to better match our personal strengths and abilities with an appropriate career."
(Media Center)