DTU Holds Training courses on Simulation Applications in Medical Education
From September 18 to 20, DTU partnered with Medical Simulation experts from Southeast Asia and the rest of the world to hold training sessions on the application of Medical Simulations in education. Attendees included Professor Paul E. Phrampus, General Director of WISER Center in Pittsburgh, USA, Professor John M. O'Donnell, Deputy-Director of the WISER Center, Professor Ismail Mohd Saiboon, Vice-Dean of the Graduate School of Kebangsaan University, at the National University of Malaysia, Dr. Thomas Che-Wei Lin, Director of the Center of Medical Visualization and Simulation in the Medical University in Taipei, Taiwan, DTU lecturers of Medicine, Pharmacy and Nursing, and doctors from local hospitals.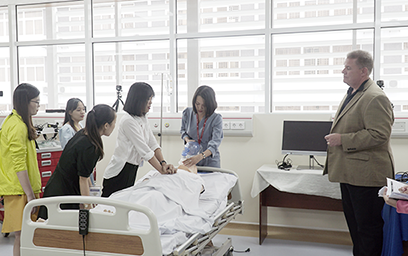 Virtual reality simulations are taught by experts
Using simulations to teach clinical skills for medicine is becoming a vital trend in many teaching hospitals and universities around the world. The use of simulations in teaching through complete or partial models, virtual reality software, or simulated patients helps the learner go from bookish theory to clinical practice at a hospital more smoothly. The training course consisted of two topics, namely "Scenario Design" on the first two days and "Debriefing" on the last day. Basic definitions were taught prior to each session and participants were also instructed to analyze good-practice factors as teachers and students.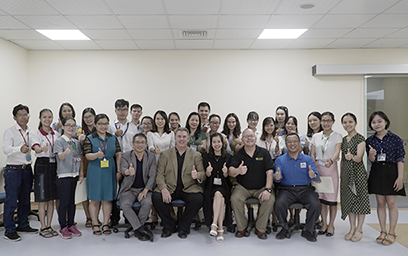 Participants with the experts
DTU has been working hard to create a hospitable environment, where students can learn all about healthcare practically in well-designed classrooms equipped with latest modeling tools, together with a strong investment in new lecturers and partnerships with international universities.
Doctor Pham Thi Dao, MD, a lecturer of Medicine, said: "Students must be aware the DTU Medical Simulation Model is good enough to work with and learn from, even though it is still not perfect in reality. Students should not be afraid of making mistakes and should learn from them. Simulations can help them connect theory and clinical practice in hospitals. During the training session, the experts motivated the DTU lecturers to use simulations in medical education and helped them understand more about how they are trying to come up with new ways to improve the quality of medical education."
(Media Center)