More Foreign Students Enroll at DTU in 2019
DTU is gradually strengthening its brand worldwide with the expansion of its advanced international programs. Students from Laos, Myanmar, the Philippines, Taiwan and South Korea have recently decided to study at DTU to realize their academic goals, confident of the high-quality education that the university guarantees.
A Burmese student joins the DTU On-Site Study-Abroad program to earn a US degree
The DTU On-Site Study-Abroad programs were developed in collaboration with Troy University and Keuka College not only for Vietnamese students, but also for the increasing number of foreign students who enroll in them, including Nway Myet Woon from Myanmar, who is studying Tourism and Hotel Management.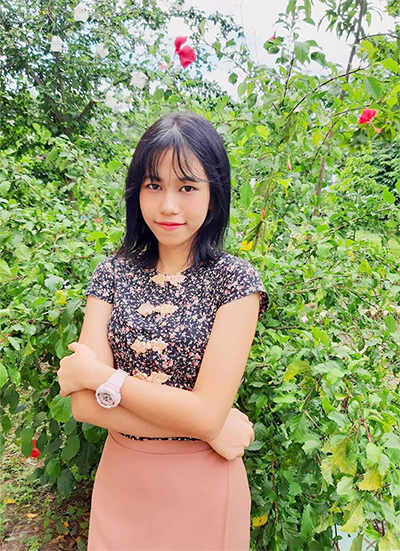 Nway Myet Woon
"I discovered that other students from the US, Zimbabwe and Taiwan had come to study at DTU," explains Nway Myet Woon. "After researching information about the university and its On-Site Study-Abroad programs, I decided that the DTU environment was is really the ideal one I'd always been looking for. Young people in Myanmar all dream of studying in developed countries, such as the US, England, or Australia, but their path is strewn with several difficulties, especially financial ones. When I discovered that DTU partners with Troy University, one of the five leading public universities in Alabama, I decided to join their Tourism and Hotel Management major to graduate with an American degree. DTU's location in the beautiful seaside city of Danang and the arrangements that DTU have with local hospitality businesses will allow me to study, gain experience and develop. I also very much admire the strong will of the Vietnamese people and hope to benefit from it during my studies."
Nway Myet Woon will study with professional, highly experienced Vietnamese and American lecturers from DTU, Troy University and India, South Korea and Taiwan. "I've already had some initial interesting and stimulating lectures," says Nway Myet Woon. "My program is taught completely in English and the lecturers provide additional guidance, answer all our questions and help us to understand lesson content to learn more efficiently. Most of all, I like the electronic libraries for quickly looking up and researching information. It may be premature but, when I graduate, I would like to continue studying for a Master's degree here. I really love DTU."
A Laotian student joins the DTU Talented program
In 2019, DTU welcomed sixty more students from a "brother and neighbor" nation, the Lao People's Democratic Republic, including attractive Chorlakoun Soudavone, who chose to study Financial Management in the DTU Talented program.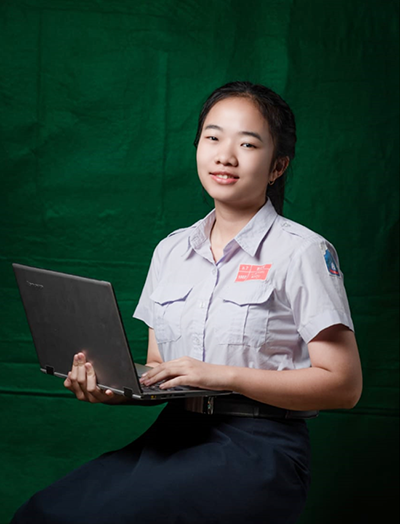 Chorlakoun Soudavone
Chorlakoun Soudavone is far from home and family but is continuing her quest to realize her dreams by studying at DTU. Unfortunately, she has suffered moments of anxiety, sadness and homesickness, missing her friends and her mother's cooking. After a short time with her lecturers and classmates, however, she has become much more confident. "The DTU lecturers are devoted to their teaching, friendly, welcoming and happy to help us," said a smiling Chorlakoun Soudavone. "My classmates are also very friendly and introduced me to the absorbing culture and people of Danang and Vietnam. Their English is very good, so Laotian students can easily exchange information about studying and living. Furthermore, DTU provides many extracurricular activities, which help us to interact with our peers and acquire extra skills. All of this has helped me to rapidly adapt to the new environment and to start wanting to stay here for a long time."
Chorlakoun Soudavone and her Laotian friends are also taught Vietnamese after class, will be able to learn an additional foreign language and converse with the local people they meet in Danang.
"One of the 'presents' that made my family and I very surprised and happy was the full scholarship I received from DTU," said Chorlakoun Soudavone. "That was really a huge motivation for me to try hard in my studies here and turn my dreams and aspirations into reality."
A Korean student joins the International Student Exchange Program
Students from various countries have enrolled in DTU's international student exchange program, especially from South Korea. This first semester saw eight Korean students arriving at DTU to study Hospitality. Bang Ryu-bin from Dongduk Women's University, has already confirmed that she will continue to study for a second semester.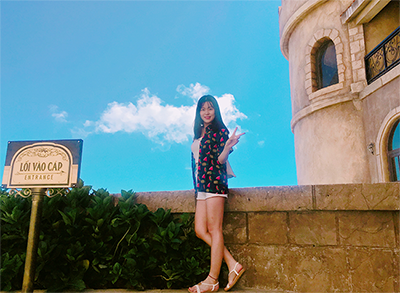 Bang Ryu-bin is a member of the student exchange program
Bang Ryu-bin said, "I was lucky to come to Vietnam and learn the language when my father ran a company here. I found Vietnamese interesting and, after returning to Korea, researched study options here and heard about the student exchange program with Dongduk Women's University. I actually wanted to study Hospitality, to travel around the world and experience the different cultures. Unfortunately, Dongduk Women's University didn't have an appropriate major, so I'm now studying what I'd planned, at DTU."
Bang Ryu-bin speaks excellent English, spent time learning Vietnamese and has quickly adjusted to life in Danang and to the DTU study environment. "My program here is taught completely English," she added. "The DTU lecturers are professional and enthusiastic, so I have no learning problems. One thing that DTU and Dongduk Women's University have in common is the credit system, which also helps us adapt quickly. I'm learning a lot on the student exchange program and, if I had to choose again, I'd would still select DTU."
(Media Center)