DTU Launches the "Innovative and Creative Student Startup" Competition
On October 11th, the DTU Startup Center, the VinTech City Fund and the Danang Department of Science & Technology have just launched the 2019-2020 "Innovative and Creative Student Startup" contest. The objective is to provide an environment to promote entrepreneurship at DTU and at other universities and colleges in Danang.
The Launch and Information campaign round will run from September 25 to October 24, an Ideas round from October 25 to December 25 and an Incubation round and finals from March 25 to June 30, 2020. The project is being jointly sponsored by the VinTech City Fund and DTU.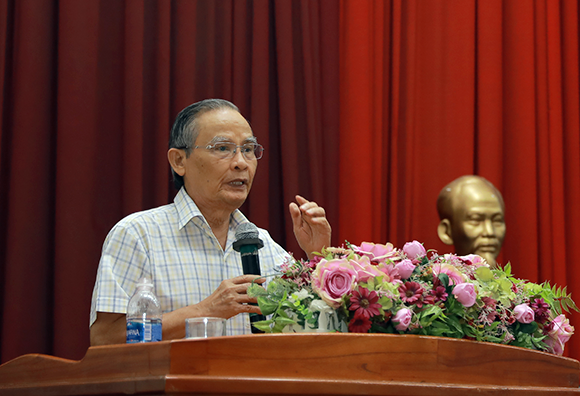 Hero of Labor, Distinguished Teacher Le Cong Co, DTU President speaks at the event.
"To establish a successful startup, first and foremost you need awareness, creative initiative and a thirst for new ideas," said Hero of Labour and Distinguished Teacher Le Cong Co, DTU President, at the launch ceremony. "Secondly, you need to be responsible for your own work. Thirdly, and most importantly for startups, is the vital aspiration and passion to achieve success for yourselves and for the future of Vietnam. At the same time, knowledgeable, experienced lecturers are essential to mentor and encourage students to dedicate themselves completely to their projects. With these qualities, innovative workgroups will be able to develop their own unique startup projects and create new and exciting products. DTU has organized this contest to promote entrepreneurship and sow the seeds for healthy incubation and development."
Selected projects will be required to guarantee feasibility, optimum cost, technological prowess, unique advantages, together with quality production, manufacturing and deployment of the product or service. In this way, DTU plans to create an innovative and creative startup environment that can become part of the existing Danang startup ecosystem.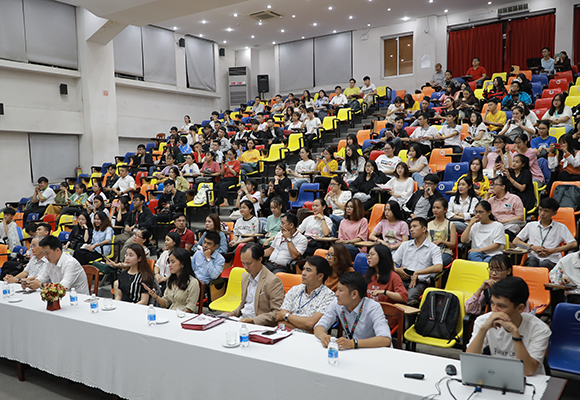 DTU students
The best startup projects will be selected and teams will work together to turn them into successful startup businesses later. After each round, the teams will be awarded valuable prizes, especially in the final round:
-
First and second place winners will move on to attend the national 2020 Student Startup Conference.
-
Projects will be presented at business startup conferences and to startup investors.
-
Selected startup projects will be fully supported by the government in their research, development, technology transfer, standards, quality control and intellectual property activities.
As part of the the launch ceremony, a startups talk show was held. Mr. Nguyen Bao Quoc, the Vice-Chairman of JCI Danang 2019 and Deputy-Director of Bao Tran Investments, shared his successful startup and gave advice to help students figure out how to choose the most creative and feasible business ideas and how to develop and market them most effectively.
Schedule
Round

Activity

Time

Idea

Registration

25/9 - 30/10/2019

Guides to documenting presentation ideas

1/11 - 24/11/2019

Submission

25/11 - 5/12/2019

Evaluation and selection of the 20 best ideas

6/12 - 24/12/2019

Project

Guides to writing up startup projects

25/12/2019 - 24/2/2020

Submission

25/2 - 5/3/2020

Evaluation and selection of the 10 best projects

6/3 - 24/3/2020

Incubation and finals

Guides to making product presentations

25/3 - 24/5/2020

Submission and presentation

25/5 - 15/6/2020

Finals

16/6 - 30/6/2020
Contact information:
Startup Center: Room 126A, 209 Phan Thanh. Hotline, Mr. Kien - 0981 689 892
(Media Center)