DTU Lecturer Receives a 2019 Publon Peer Review Award for being in the Top 1% of Reviewers of Computer Science
The Web of Science Group has just announced the winners of the Global Peer Review Awards, assessed by Publon, which recognizes researchers worldwide based on both the quality and quantity of their peer reviews. Dr. Anand Nayyar, a lecturer at the DTU International School and researcher in the Institute for Research and Development, was ranked in the top 1% of all Computer Science, Engineering and Cross-Field reviewers internationally, based on 22 essential scientific indicators (ESIs). He is the first lecturer in Vietnam to receive the award and was ranked 9th for his contribution to scientific research, 3rd for both the quality and quantity of his peer reviews and 16th in Engineering.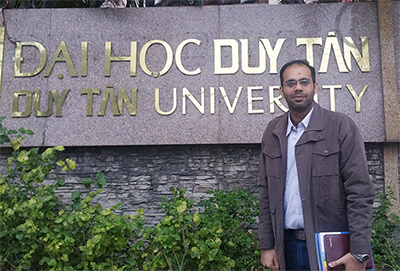 Dr. Anand Nayyar
Inforamtion Technology has been identified as a core major at DTU since its inception and the University has attracted many highly-qualified and experienced lecturers, who were leaders in their respective fields in Vietnam and abroad. One of them is Dr. Nayyar, from India, an excellent lecturer with innovative teaching methods and a researcher with impressive contributions to Computer Science.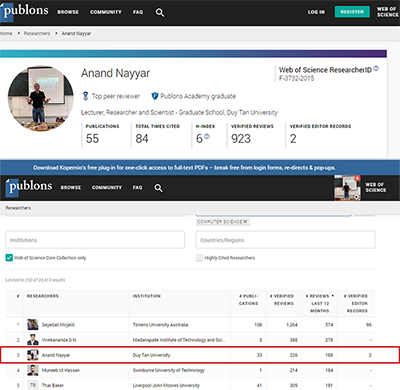 Dr. Anand Nayyar receives his award
Indian talent working for DTU
Dr. Nayyar obtained a PhD in Computer Science at Desh Bhagat University in Mandi Gobindgarh in India. He has 15 years of teaching and research experience, with 250 papers published at conferences and in well-known journals. He has received 75 certificates from large companies, including CISCO, Microsoft, Oracle, Cyberoam, GAQM, Beingcert.com, ISQTB, EXIN and Google, and is also on the Panelist Advisory Board and Technical Programs and Reviewer Committee Member, participating in 300 international conferences.
He has worked with CRC Press, Elsevier, Springer, IGI-Global, BPB Publications, Scholar Press and GRIN to publish 25 Computer Science books. With this experience, he has just started up his own journal, together with IGI-Global Publishers USA, entitled "International Journal of Smart Vehicles and Transportation".
Dr. Nayyar now considers Vietnam his second home. He said, "I love Danang and the people here and decided to work at DTU because it is the best teaching and research university in Vietnam now. I like their approach, the work culture is the best, with the constant support of management, who have created an ideal environment for my community-oriented research. As a result, I can strengthen my international exposure through collaboration on corporate research projects and publications. I will always do my best to help DTU rise to even higher standards in Computer Science education."
Since his arrival at DTU, he has contributed 13 SCOPUS, 12 SCI / SCIE / SSCI and 25 IEEE / Springer Conference Scopus-indexed papers. Dr. Nayyar won the Best Paper Award in the Computer Networks Track at the 2019 ICDMAI Conference in Malaysia. In 2018, he and his students won the GDG DevFest Award. He has won many others, including the Indo-International Emerging Star Award, Global Indian Personality Award, Asian Status for Intellectual People and Outstanding Researcher Award. He was included in the "Marquis Who's Who in the World" in 2018 and 2019. He has published three well-received books, on "Swarm Intelligence", "Cloud Computing" and "Green Building and Smart Automation".
Publons is a source that researchers, reviewers, academicians and Professors use to keep track of their research accomplishments in their respective areas of expertise. The Global Peer Review Awards are unique in recognizing and rewarding cross-published papers worldwide. The awards honor the 'best in class' peer reviews over the previous 12 months, in each of the following categories:
-
Top 1% of reviewers in their field, measured by 22 individual Web of Science Essential Science Indicator (ESI) research categories
-
Excellent reviewers, as rated by journal editors on Publons
-
Top handling editors by quantity
Dr. Anand Nayyar said: "Recently, we have seen Artificial Intelligence, IoT and Deep Learning dominating the world and making our lives smarter and more intelligent. A new revolution of various computer science disciplines is coming, as robotics are playing more important parts in our lives. With Chatbots, Drones, IoT and Industry 4.0, almost everything is becoming highly automated. Computer science in Vietnam has already been significantly impacted, with more to come in the near future. This country is especially focusing on startups in IT and Computer Science and DTU is adapting its computer science curricula to accelerate problem-solving expertise to be industry ready. As a result, I now envisage a bright, shining future for computer science in Vietnam."
(Media Center)