Together, Duy Tan Innovates V-Tourism
Professor. Lim Sang Taek, Director of DTU Institute of Hospitality Training & Research, and his colleagues have determined that their mission should be: "Together, Duy Tan Innovates V-Tourism".
On the afternoon of September 26th, an arts exchange program with the Yecheon Tongmyeong Nongyo Conservation Association in South Korea was held. Distinguished Teacher Le Cong Co, DTU President; DTU lecturers, staff and students attended.
Forever singing for the crops
Mr. Choi Bu-rim explained that the "Yecheon Tongmyeong" are old songs passed down from the old local farmers. Their music gradually faded away in the 1950s but was completely revived in 1974 by Ham Bong-jun, Gang Won-hui and others, who first performed it again at a cultural festival in Yecheon. The South Korean President awarded the group a special prize at the 20th national folk arts contest in 1979. At the same time, Yecheon Tongmyeong Nongyo was awarded its status as an important intangible national cultural heritage number, managed by the Law of Cultural Heritage Conservation of 1985.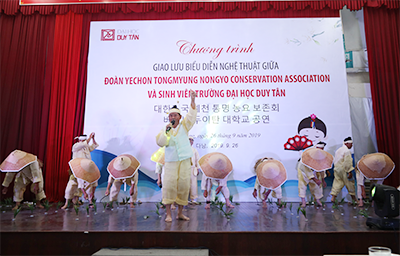 The Korean troupe dancing and singing about crops. Photo: Q.L
The "Yecheon Tongmyeong" festival is organized every June in Tongmyeong village, Yecheon town, Yecheon county, in the North Gyeongsang province. They performed pieces such as Aburaeisuna (a rice-planting song), Dowumso (sung when leaving the rice paddy), Aaehangeheh (sung while weeding), Aeiyong (sung after weeding), and Gaengmakungkingnosae (sung as the farmers return home).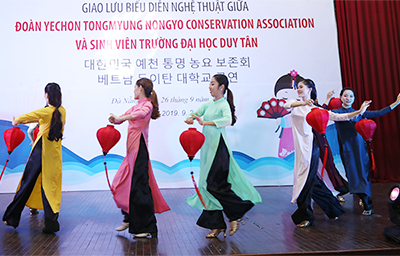 The Hoi An lantern dance performed by DTU students. Photo: Q.L
Every year, the troupe performs these much-appreciated songs in China, India, Japan, Singapore and elsewhere. These songs alleviated the pain of the peasants during their hard work and yearned for favorable rain, a gentle wind and a harvest of plenty. The Koreans have a saying "shin to bul ee", which means "body and soil as one": to become as one with nature. This is why the farmers sung about the steps of crop cultivation, which established it as a tradition, worthy of protection, for continued performance and an example for future generations.
"Together, Duy Tan Innovates V-Tourism"
Recently, Professor Lim was honored by the President of South Korea, Moon Jae-in, with an Order of Civil Merit for his outstanding contribution to South Korean education. He said: "The award is not granted annually, but at arbitrary times, when a candidate becomes fully qualified, so the number is strictly limited. That's why it's a real and valuable prize for me."
After obtaining a Bachelor of Science from Yonsei University in South Korea, a Master of Business Administration from the University of Dallas and a Doctor of Business Administration degree from the United States International University, Professor Lim gained years of experience lecturing at Dong-A University in Busan, South Korea, in the Department of International Tourism. He was also appointed Visiting Professor at Griffith University in Australia and, after that, became Director of the Dong-A University Institute of Lifelong Education and Chairman of the Busan Future of Tourism Association. Currently, Professor Lim is Chairman of the Asia Pacific Tourism Association (APTA) and a member of the Aviation Safety Committee at the South Korean Ministry of Land & Transportation.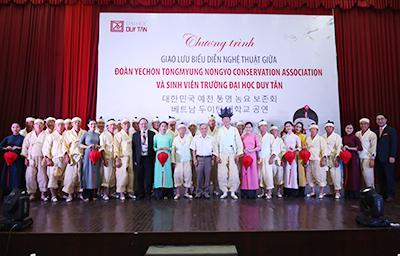 The South Korean group with DTU staff and lecturers. Photo: Q.L
Professor Lim has a passion for tourism and has much time understanding tourism in Vietnam. He discovered long ago that the seaside city of Danang in particular and Quang Nam & Central Highland provinces have large tourism potential and many built-in assets. During the many years of partnership between Dong-A University and DTU, he researched the potential for further investment and development in hospitality training here.
"I decided to work for DTU, where the leadership always respects talent and creativity and promotes collective spirit," Professor Lim explained. "I resolved to bring Park Hang-seo's spirit to the DTU Institute of Hospitality Training & Research, where my colleagues and I have determined that our mission should be: 'Together, Duy Tan Innovates V-Tourism'. We must dedicate ourselves to the even higher goal of teaching and researching to elevate the standard of Vietnamese tourism to an even higher level, to lift the spirits of all Vietnamese and foreign visitors in the best way possible."
(Media Center)