DTU wins the 2019 CMC Telecom Championship
On September 14, the Trung Vuong football stadium in Danang became even hotter than ever for the finals between DTU and the Danang College of Economics & Planning. With the spirit of fair-play and skill, the outstanding DTU team took home the 2019 CMC Telecom Championship's Cup.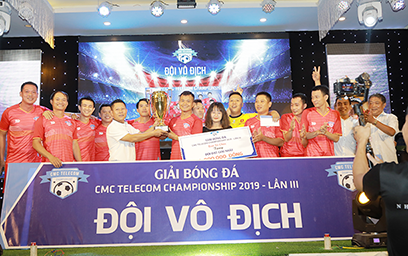 Officials award the 2019 CMC Telecom Championship's Cup to DTU
The third annual CMU Telecom Championship was held only for lecturers at universities and colleges in Danang, sponsored by CMC Telecom, who have shown their appreciation to universities who use their services by bringing lecturers from different universities to compete, make friends and promote a healthy life-style. The 16 teams came from eleven universities and colleges, two international schools and CMC Telecom, and were divided into four groups.
Although this was the first time DTU has taken part in this tournament, they were regarded as one of the strongest teams. They won after a spectacular 7-0 victory over the Vocational Training College and a 5-0 win over the College of Culture and Arts.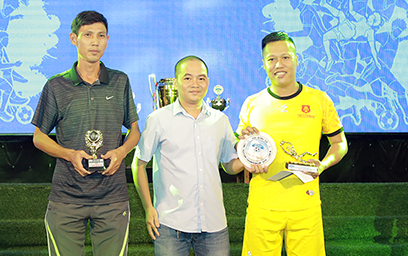 Hoang Quang Huy (yellow shirt) receives the title of best goalkeeper
From the first few minutes, the teams entertained their spectators with amazing tackling and tense shots. After taking the ball, the number 10 player, Nguyen Tuan Vu, aimed and scored a goal before halftime. On the attack, DTU was still defending their goal and, a few minutes later, player number 7, Le Quoc Duy, headed the ball into the net and made the score 2-0. The match became more dramatic when the goalkeeper of the College of Economics & Planning team left his box to join in an attack in the second half. However, DTU fought hard and won 3-1, to become champions.
The second prize went to College of Economics team and the third and fourth prizes were awarded to the College of Culture and Arts and the home team CMC Telecom respectively. DTU's Hoang Quang Huy won the title of the best goalkeeper of the tournament.
(Media Center)