The Opening matches of the Twelfth annual DTU mini-football tournament
The 12th annual tournament kicked-off on September 21 at DTU stadium, to promote health and physical exercise among lecturers and staff. Ten teams competed, comprising 128 players from various DTU faculties and offices. The teams were divided into two groups to compete for places in semi-finals and finals.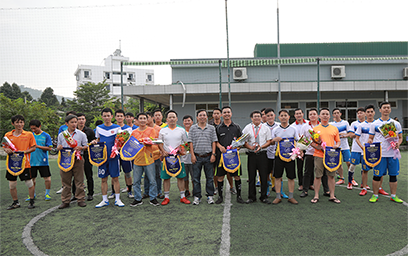 Dr. Nguyen Huu Phu and Dr. Nguyen Tan Thang, DTU provosts, present flowers and gift flags
Dr. Nguyen Huu Phu, DTU Provost, said: "The tournament is an inspiring opportunity for lecturers and staff to compete with each other, exercise to stay healthy. The teams will play hard, enthusiastically and fairly."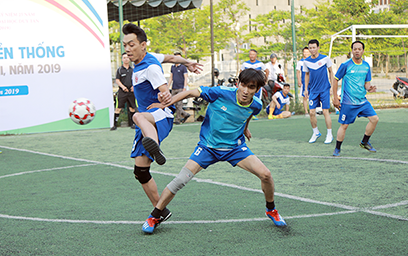 DTU footballers play at the stadium
In the first dramatic matches, the teams played professionally and entertained the spectators with exciting shots and terrific passing skills. Cheering fans seemed to give their teams the extra energy to push themselves to the limit to score goals.
The tournament ends on October 13 and the qualifying matches promise some awesome football later on.
Qualifying Results - September 21 and 22
No

Matches

Score

Team 1

Team 2

1

Office of Facilities and Engineering

Alliance: Administrative Office and Youth Union

2 - 2

2

Alliance: E-learning, second-degree, CVS and CEE centers

Alliance: Faculty of Pharmacy and CSE Center

2 - 3

3

Alliance: Faculty of Civil Engineering, Center of Computing Practice, Faculty of Law

Alliance: Office of Academic Affairs, Faculty of Accounting, Faculty of Business Administration, Department of Planning and Finance, Faculty of Hospitality and Tourism and International School

2 - 3

4

Alliance: Institute of Research and Development, Lab Center, Center of Microbiology, Faculty of Environmental and Chemical Engineering

Alliance: Faculty of Natural Sciences, Office of Science Management and Technology Transfer, Lab center

7 - 0

5

Alliance: Inspection Office, Faculty of Electrical Engineering, Faculty of Information Technology

Alliance: Office of Academic Affairs, Faculty of Accounting, Faculty of Business Administration, Department of Planning and Finance, Faculty of Hospitality and Tourism and International School

4 - 0

6

Alliance: Admission Center, Media Center, Silver Swallows Studio, Department of Business Cooperation, Faculty of Architecture

Alliance: Faculty of Natural Sciences, Office of Science Management and Technology Transfer, Lab center

8 - 2

7

Office of Facilities and Engineering

Alliance: Faculty of Civil Engineering, Center of Computing Practice, Faculty of Law

0 - 2

8

Alliance: E-learning, second-degree, CVS and CEE centers

Alliance: Institute of Research and Development, Lab Center, Center of Microbiology, Faculty of Environmental and Chemical Engineering

0 - 8
(Media Center)