International Nurses Day Celebration
On May 12th the Danang Nurses Association and the DTU Faculty of Nursing celebrated International Nurses Day. This is also the anniversary of Florence Nightingale's birth, the founder of modern nursing.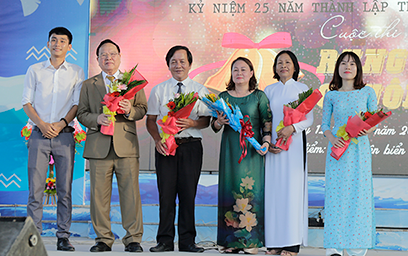 Nursing students presenting flowers to distinguished attendees
Firstly, an interesting musical performance by DTU lecturers and students took place to honor nurses, who have been working hard to serve patients and the community. The history of Nursing in Vietnam and worldwide was reviewed, including the life story of Florence Nightingale.
Associate Professor Dr. Nguyen Ngoc Minh said: "Nurses play a remarkable role in advancing the health and wellbeing of our society. Today's celebration provides us with a great opportunity to recognise nurses around the world for their contribution to health care. DTU in general and the DTU Faculty of Nursing specifically will continue making every effort to gradute highly-qualified nurses with good morals and medical ethics."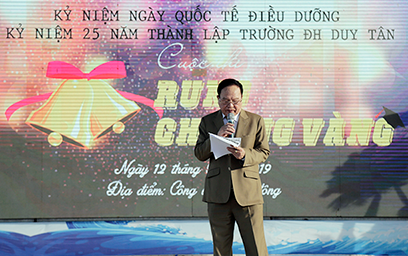 Associate Professor Dr. Nguyen Ngoc Minh, DTU Vice-Provost, speaks
Florence Nightingale is broadly acknowledged and appreciated for the significant contributions she made to the profession before her death 100 years ago. DTU students of Nursing always keep the Florence Nightingale Pledge in their minds. This inspires devotion to the profession from future DTU nurses.
As part of the event, a knowledge competition, namely "Ring the Golden Bell", was organized for DTU students of Nursing to strenghten their motivation and enhance their knowledge and skills. Attending the game show, students answered questions on a wide range of subjects.
(Media Center)