Many Apply for Transcript Admissions at DTU
With the continuation of the high school transcript admissions formula for the 2019 enrollment season in addition to a whopping one billion dong worth of scholarships, many applicants from all over the country have taken notice and have sent DTU their applications very early.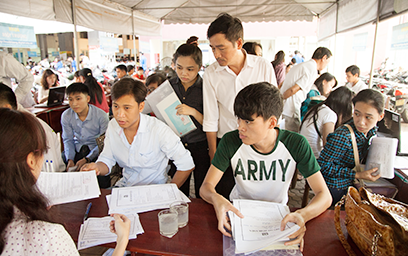 A great many students apply to DTU through the high school transcript formula
Advantages of transcript admissions
When choosing to apply to DTU through the high school transcript method, applicants will fell less pressure during exams and when choosing school and major. Students with good study results will be able to choose the major they like when applying through their transcripts. With the transcript admission formula before the High Graduation Exam, applicants will have a psychological advantage to confidently meet the challenges of the Exam.
DTU offers a variety of subject groups to be considered for each major, from which applicants can select the subjects they have best academic results for. This allows them to actively seize the chance of admission. All majors, however, have limited admissions criteria and the competition for "hot" majors is high. This is why submitting an early application based on one's high school transcript increases the probability of being admitted to one's preferred major.
DTU already received a great many transcript-based applications from students who graduated from high school in 2018 and earlier.
"Last year, after graduating from high school, I was admitted for Chemical Engineering at the University of Danang," explains Le Thi Nhu Ngoc, who applied for PSU Tourism and Hospitality Management course. "I felt like I liked to study hospitality more, though, so I dropped out and applied at DTU, which is famous for its hospitality training in Danang. My 12th grade academic results were excellent, so I feel that choosing a transcript-based application will get me a ticket into hospitality at DTU."
Valuable scholarships for transcript-based and early admissions
DTU accepts transcript-based applications (taking into account the 12th-grade full year average of the subjects under consideration) for all majors except General Practitioner and Odonto-Stomatology. Applicants can choose one out of four sets of subjects depending on the major they are applying for. If the results for the first subject set are insufficient, they can try with the remaining subject sets, and they can choose the subject set they have the best results for.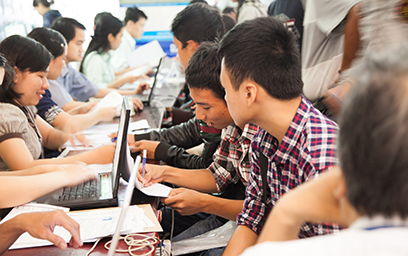 DTU staff and lecturers enthusiastically help students with their applications
To apply to DTU based on one's high school transcript, one should have a total three-subject average score of both semesters of 12th grade of 18 points or higher (19.5 points for Nursing, and for the 2019 enrollment season DTU officially enrolls for a Bachelor of Pharmacy based on a high school transcript score of 24 or higher). For Architecture, applicants using the transcript formula must additionally submit their technical drawing exam results obtained at any school holding such exams or sign up for the drawing exam DTU will organize on June 29th and 30th.
To promote a spirit of learning among applicants, DTU awards over 2,500 scholarships with total value more than 38 billion VND for its 2019 enrollment.
For transcript-based enrollments in particular, the university set aside 700 scholarships worth one billion dong total for applicants with 12th grade all-year results of 22 points and higher and admitted through this method. This is a worthy reward for the efforts the students put into realizing their professional aspirations at DTU.
Admission can be made in person or by post at the address: Duy Tan University, 254 Nguyen Van Linh St, Danang
Hotlines: 1900.2252 - 0905.294390 - 0905.294391
Website: http://tuyensinh.duytan.edu.vn
Email: tuyensinh@duytan.edu
(Media Center)