Advanced International On-site Programs in Central Region
Universities must attach a special importance to the steady improvement of educational quality and international integration to develop successfully. Because of this, DTU has created the International School, specializing in partnering on advanced on-site programs in preparation for overseas exchanges. After ten years, the International School is well-known for providing the community with skilled IT experts, construction engineers, architects, and business people. Applicants searching for advanced, high-quality programs in 2019 should take a look at the advanced programs at DTU in Central Vietnam.
International collaborations offer a wide choice of advanced international programs
The International School functions as a bridge between DTU and its international partners. The school has already partnered with many well-known international universities to share internationally-standardized curricula. They include:
- Carnegie Mellon University, one of the top American universities in IT, to implement advanced programs in Software Engineering, Information Systems and Network Security.
- Pennsylvania State University, one of the leading universities in Business Management, to offer programs in Business Administration, Accountancy, Finance & Banking, Hotel and Restaurant Management.
- California State University, CSU Fullerton and Cal Poly, top universities on the American West Coast, to implement the first and only advanced program in Architecture and Civil Engineering in Central Vietnam.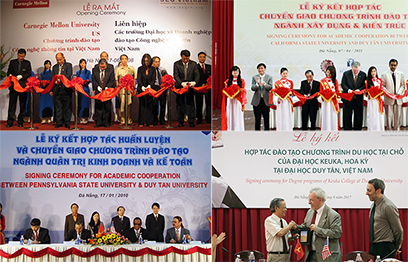 DTU signs agreements with American universities
DTU collaborates with the University of Illinois in Chicago, which has the largest Medicine and Pharmacy program in the US, and the University of Pittsburgh, ranked as one of the best medical research universities in the US, to create programs based on their curricula, taught by professors from Sweden, Germany and the US. A solid foundation in English is essential to be able to effectively study with lecturers from developed countries.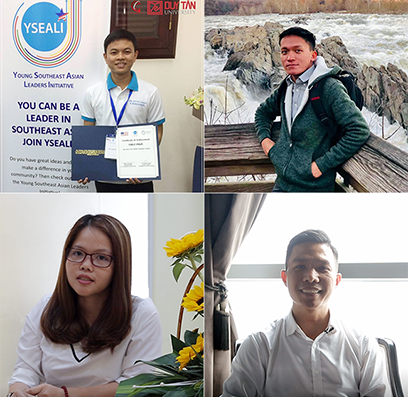 DTU Alumni Tra Anh Dong, Ngo Viet Hoang, Pham thi Le Trinh and Nguyen Tien Thanh work for big companies
DTU works with foreign universities to improve the quality of education. By sharing international curricula, DTU has created programs to help students continue their studies abroad. More choices are now available, such as:
- the 2+2 program (2 years at DTU and 2 years in America)
- the 1+1+2 program (1 year at DTU and 3 years in America)
- the 3+1 program (3 years at DTU and the final one in England)
- the On-Site Study-Abroad program with Troy University and Keuka University. Students study at DTU and earn an accredited American degree in Vietnam.
Great job prospects!
The International School has been making a difference for DTU students over the years, as lecturers tailor their courses in conjunction with local businesses to offer the most practical approach. As a result, companies respect student abilities and regularly come to DTU to recruit qualified students, before and after graduation. Almost 100% of the graduates of the advanced international programs at the DTU International School find immediate employment, compared to 94% for the entire university. Many already hold managerial positions with HP in Malaysia, Flex in the US, Fsoft Danang, Axon Active, BAP, Enclave, LogiGear, DICentral, DAC Tech Vietnam, SunWorld and the Sun Group.
Impressive achievements
International School students have taken top honors in several national and international contests.
2012:
- Nguyen Thu Quynh received a Distinguished Award for a Vietnamese female student of Information Technology.
- Nguyen Hung Phi became the only student in the Central Region to reach the top 30 in the International Microsoft Office Specialist championship.
2014:
- International School students excelled in several IT contests. Lu Gia Vien, Tran Van Dung, Nghiem Vu Lam, On Van Trong Duc, Truong Dien, Quoc Huy and Nguyen Thi Kieu Tien came first in the Detective Hyde contest at the DTU Innovation Cup and Do Minh Vuong, with his app on Digital Technology, won the MIC Hackathon App Studio.
- In international competitions, Dang Quoc Dao and the DTU IDEERS team defeated many strong competitors to win first prize in the "Introducing and Demonstrating Earthquake Engineering Research in Schools" competition at the 2014 Asia-Pacific Region IDEERS Champions Cup in Taiwan.
2015:
- Four International School students, Nguyen Thanh Lam, Nguyen Van Trong, Doan Cong Truc and Phan Xuan Dat, won second prize with a fireworks show entitled "Youth and the Passage of Time" in the Computer Fireworks Competition, hosted by the Danang Department of Information and Communications, setting an example for the Vietnamese team in future International Fireworks competitions.
2016:
- DTU Architecture students won third prize at Loa Thanh awards.
- Ton That Binh was a member of the team that won the CDIO Academy Innovation competition in Finland.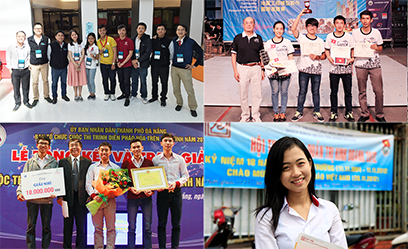 International School students win awards in national and international competitions
2017:
- Le Dinh Nhat Khanh's team won the CDIO Academy Winner's Cup at the CDIO Academy held in Canada.
2018:
- Over the past several years, the ISITDTU Information Security team have demonstrated their capabilities as leaders in Central Vietnam, the best in Vietnam and 18th worldwide in the CTFTime rankings, leaving Vietnam's second-best team far behind in 100th position.
- IT students from the International School won a People's Choice Awards accolade in the Microsoft Asia Pacific Imagine Cup.
In addition, the high school graduation results of enrollees at the International School have been steadily improving.
- In 2014, Valedictorian Vo Thi Hoai Tram scored 28.5.
- In 2015, Valedictorian Nguyen Thi Thanh scored 28.25.
- In 2016, Valedictorian Huynh Tan Dung scored 26.75.
- In 2017, Valedictorian Le Thi Thu Ngan scored 28.5.
- In 2018, Valedictorian Le Van Duc scored 27.
Meanwhile, outstanding International School students received scholarships from DTU and other sponsors, such as Boeing Aircraft, of $1,000 each, Pennsylvania State University, of $500 each, and others.
The outstanding accomplishments of the International School students are something to be proud of and they inspire their lecturers to work harder to continue graduating highly-qualified professionals into the community.
In 2019 season, DTU continues to award preferential scholarships students of International School:
- Scholarships worth 5 million dong each for first-year students who obtained a consolation prize in a National Excellent Student contest or in a National Science & Technology contest.
- 39 Full scholarships: 100% of tuition fee, with total value of 3 billion dong, for applicants to the advanced and international CMU, PSU, CSU, PNU programs, with a total High School Graduation Exam three-subject score of 23 or above.
- 15 scholarships from Boeing Aircraft: 20 million dong each
- 10 scholarships from California State University (CSU): 10 million dong each.
- 10 scholarships from Pennsylvania State University (PSU): 10 million dong each.
- 50 scholarships from DTU worth 5 million dong each for CMU, PSU, CSU, PNU standard programs
For detailed information, please contact the DTU Enrollment Center
254 Nguyen Van Linh, Danang
Hotlines: 1900.2252 - 0905.294390 - 0905.294391
Website: http://tuyensinh.duytan.edu.vn
Email: tuyensinh@duytan.edu
(Media Center)