DTU Awards Scholarships to High School Students
On April 7th, DTU held an entrance exam for applicants to the CMU, CSU, PSU and PNU advanced programs. On this occasion, Mr. Nguyen Duc Man, Dean of the DTU International School, and Mr. Dang Ngoc Trung, Director of the DTU Enrollment Center, awarded scholarships worth 100 million dong to one hundred leading students from Danang and Quang Nam.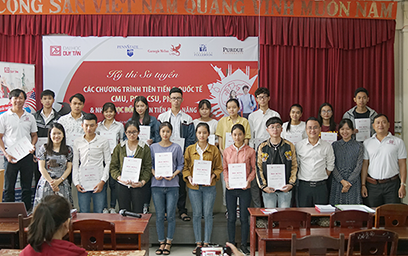 Scholarship winners
The year 2007 marked the beginning of DTU's international partnerships when DTU signed a collaborative agreement with Carnegie Mellon University (CMU), one of the four leading universities in Information Technology of the US, to introduce a variety of advanced international programs such as Network Security, Software Engineering and Management Information Systems. By now, the university has started collaborations with many well-known American universities including Pennsylvania State University (PSU) to implement advanced programs in Business Administration, Accountancy, Finance-Banking and Hospitality; California State University, CSU Fullerton and Cal Poly, to implement the first and only advanced program in Architecture and Civil Engineering in Central Vietnam; and Purdue University to implement advanced Electrical Engineering and Mechatronics programs.
DTU applies Problem-Based Learning and Project-Based Learning teaching methods so that students of advanced and international programs are able to prove their creativity. Besides, through these collaborative programs, students will obtain from 18 to 24 course-completion certificates with international recognition.
In particular, the Study-On-Site and Study-Abroad programs in collaboration with Troy University and Keuka College in the US have gained impressive achievements. DTU ADP students have won a great many awards in the Go Green in the City, the Architectural Festival, Information Security contests and other contests.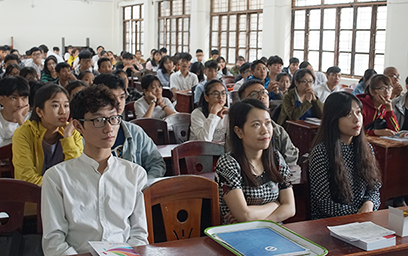 The students listening to enrollment guidance at DTU
In addition to presenting DTU's advanced and international programs, Mr Nguyen Duc Man, Dean of the International School, is very enthusiastic to explain about the study environment at DTU. "Before starting your studies, you should make a good preparation for a completely different study environment," he says. "It requires you to be much more active and creative. I can ascertain you that investing four to five years of your life to university is a very worthy investment. If you have a solid foundation from high school, you can expect your career to take off by the time you are 25 or 30 years old. The reason the ratio of DTU graduates finding employment right away reaches 90% time and again is thanks to university training policies always being geared towards future career stability for graduates."
"I carefully investigated the advanced and international programs at the university and I found the programs DTU offers to be very dynamic," explains Le Viet Anh Khoa, twelfth-grader at Thai Phien high school, Danang. "It will certainly be one of my first choices when I apply. The scholarships DTU has on offer are certainly a big motivation for us to do our utmost in our studies."
(Media Center)