General Practitioner - For the Health of the People
Already when applying for permission to start a General Practitioner major, Duy Tan University (DTU) announced it would create a seven-year training program.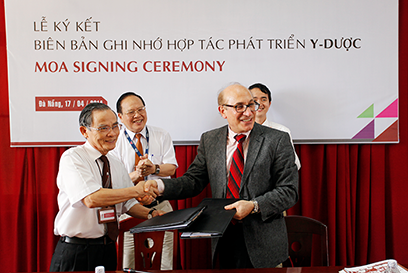 DTU has international and domestic collaborations for training improvement
Seven-year studies on a foundation of international collaboration
The first year is devoted to English language training to provide the students with a firm grasp of general English and of medical specialized English. With the good English language skills acquired during their first year, the students can rapidly access specialized documentation and the latest research from around the globe, which is all written in English.
DTU has connections with famous US universities to create programs based on consultation of their curriculums and exchange: with the University of Illinois at Chicago, the university with largest-scale medicine and pharmacy programs in the US, and the University of Pittsburgh, the seventh best university in the US in medicine research.
DTU also said it would continuously invite leading professors from Sweden, Germany, and the US to lecture its students. Having a solid English language foundation from the start is really important to be able to study with lecturers from countries with well-developed medicine and to acquire the most advanced knowledge.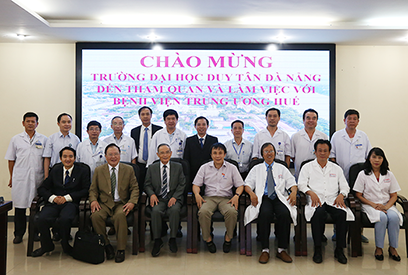 DTU has international and domestic collaborations for training improvement
Studying with Vietnam Talent Awards winning product
Probably unique at DTU is that General Practitioner students study with a special product which won many big prizes, such as a first prize at the 2017 Vietnam Talent Awards, the 2018 Sao Khue award, and a silver medal at the ASEAN ICT Awards 2018.
Its name is "Using 3D Virtual Reality Technology to Simulate the Human Body for Health Science Education and Research" and it was developed by Dr Le Nguyen Bao, MSc Le Van Chung, Trinh Hiep Hoa, Le Khac Trieu Hung, Nguyen Luong Tho, Nguyen Minh Duc, and Le Hoang Quoc Bao.
The software uses 3D technology and includes 3,924 simulated details of all organs in the human body, skeleton, muscles, blood vessels, heart, nervous system, digestion, and circulation.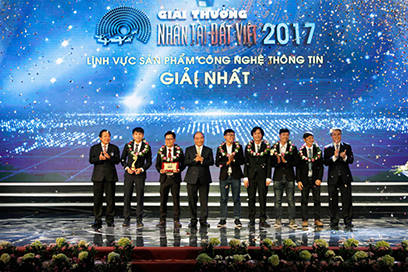 DTU won a first prize at the 2017 Vietnam Talent Awards
With this application, students can clearly see each organ and each specific anatomical detail. They can interact directly with it (turn it, hide or display parts, move it, put markers, animate its movements…) in a three-dimensional space through a 3D projector, 3D glasses, or virtual reality glasses such as Oculus Rift, Gear VR, HTC Vive and others. Otherwise, they can display it on a computer - Windows, Mac, or Linux- or on a smartphone or tablet - Android or iOS.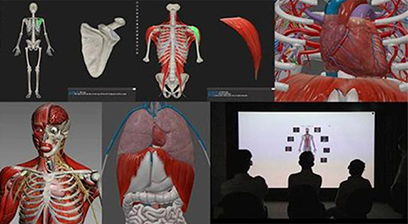 DTU's 3D software for medicine won a first prize at the 2017 Vietnam Talent Awards
Internships at 18 hospitals with prestigious specialized doctors
The university also lets know that it has agreements with 18 prestigious hospitals where students can do internships, including Danang Hospital, Ministry of Public Security Hospital 199, Military Medical Hospital 17, and Hue Central Hospital.
In addition to training at hospitals, the university built 18 training laboratories designed specifically for training general practitioners: laboratories for physics, chemistry, and biology; practice rooms for pathophysiology and immunology; practice rooms for microbiology; research labs for parasitology; and surgery practice rooms.
A seven-million US dollar medical simulation center is being built with advice and training from the University of Pittsburgh, US. It is expected to start operations in Summer 2019.
A great many professors, PhDs, Masters, and medical practitioners visit DTU to give lectures. General Practitioner students at DTU study with the most talented and experienced people to confidently become skilled doctors able to make examinations, cure diseases, and improve people's health.
In 2019 season, DTU continues to award preferential scholarships students of General Practitioner
- Scholarships worth 5 million dong each for first-year General Practitioner students who obtained a consolation prize in a National Excellent Student contest or in a National Science & Technology contest.
- DTU Scholarships: 720 scholarships, with total value of 1 billion dong, for General Practitioner applicants with a total High Graduation Exam three-subject score three points higher than the admissions minimum.
For detailed information, please contact the DTU Enrollment Center
254 Nguyen Van Linh, Danang
Hotlines: 1900.2252 - 0905.294390 - 0905.294391
Website: http://tuyensinh.duytan.edu.vn
Email: tuyensinh@duytan.edu
(Media Center)