CEO-Talk "Dare to Dream, Dare to Perform"
On May 12, the DTU Startup Center, the Phi&P Human Resource Consulting Company and VTM News held a CEO-Talk "Dare to Dream, Dare to Perform" forum to enhance student entrepreneurial skills and help develop their business plans. Ms. Nong Vuong Phi, CEO and Founder of Phi & P, Ms. Nguyen Thi Ngoc Hue, Director of Human Resource Development at AEON Vietnam and 280 DTU students attended.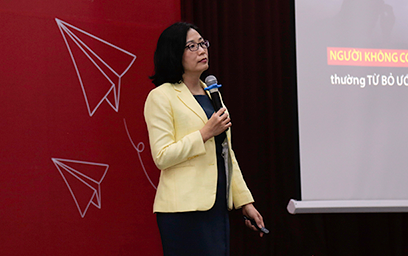 Ms. Nong Vuong Phi
The forum was part of the free Global Youth Initiative leadership development program, held annually, in April and October, by John C. Maxwell, the author of 100 best-selling books on leadership. This was the first time this program has been held in Vietnam, to encourage Vietnamese students to orientate themselves and gain the confidence to pursue their dreams.
Ms. Nong Vuong Phi said: "Lead your life and follow your dreams. Everyone can discover a passion for business, regardless of age, the stage in their lives or their personalities. "It is never too soon or too late to dream, go for it!"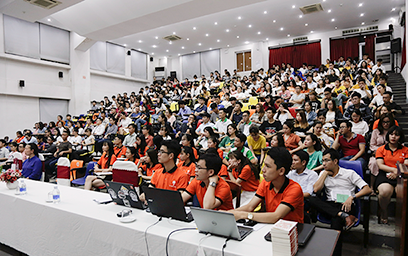 The attendees
"On your way, you may have many different jobs, and some may be unexpected ones. You should never neglect your work by making the excuse that 'this is not really my dream job'. Before I met my dreams, I worked in many different jobs but never took them for granted. Try your best in everything you do, and your dreams may soon come true," she said.
Attendees were able to take a D.I.S.C test to understand themselves better and determine which careers would most suit their capabilities. They were also awarded International Certificates of Completion for actively participating in the John Maxwell Team GYI youth leadership event.
(Media Center)