Eight Researchers Nominated for 2019 Ta Quang Buu Awards
Eight scientists who have made significant contributions to the country's science and technology sector were nominated for the 2019 Ta Quang Buu awards. The nominees studied topics such as Mathematics, Physics, Earth and Environmental Science, Biology and Agriculture, Mechanics and Life-Biomedical Sciences.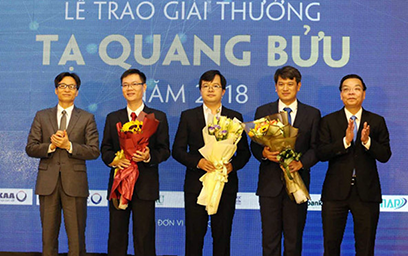 Deputy PM Vu Duc Dam presents the 2018 Ta Quang Buu awards
The National Foundation for Science and Technology Development (NAFOSTED) received 45 applications in the Science and Technology sector, of which 11 were nominated and 34 were self-selected. The Scientific Specialized Council evaluated and selected 8 nominees for the further consideration of the Awards Council.
The six nominees for major awards were Dr. Le Quy Thuong, University of Natural Sciences (Hanoi National University); Associate Professor Nguyen Quang Hung, Institute of Fundamental and Applied Sciences (Duy Tan University); Associate Professor Le Trong Lu, Institute of Tropical Technology (Vietnam Academy of Science and Technology); Associate Professor Bui Xuan Thanh, University of Technology (National University of Ho Chi Minh city); Associate Professor Pha Duc Chinh, Institute of Mechanics (Vietnam Academy of Science and Technology); and Associate Professor Nguyen Le Khanh Hang, National Institute of Hygiene and Epidemiology.
The two nominees for young (under 35) scientist awards were Dr. Do Hoang Son, from the Institute of Mathematics (Vietnam Academy of Science and Technology) and Dr. Nghiem Thi Minh Hoa, from the Phenikaa Institute for Advanced Research.
The eight nominations are now being reviewed by international experts and the Award Councils will announce the winners in April 2019. The awards ceremony will be scheduled on the 60th anniversary of Vietnam Science and Technology Day.
The annual Ta Quang Buu Awards honor leading scientists in Science and Technology and contribute to the promotion of advanced research. In 2018, two major awards were presented to Associate Professor Pham Van Hung from the VNU International University of Ho Chi Minh city for his work in Agricultural Biology, and to Dr. Tran Dinh Phong from the University of Science and Technology in Hanoi for Physics. The young scientist award was presented to Dr. Do Quoc Tuan from the VNU Hanoi University of Science.
(Media Center)