DTU Comes Second at the 2018 ASEAN ICT Awards
Surpassing many other Vietnamese research institutions and businesses, DTU became the only Vietnamese participant to compete in the finals of the 2018 ASEAN ICT Awards, held on December 5 in Bali, Indonesia. DTU finished in second place, in the Research and Development category.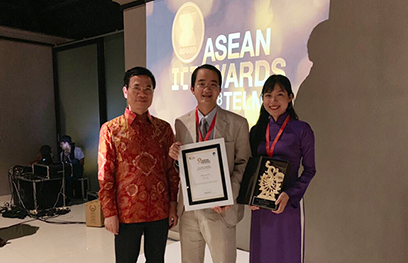 Minister of ICT, Nguyen Manh Hung, congratulates the DTU team
The ASEAN ICT Awards were launched in December 2011, at the 11th ASEAN Telecommunications and IT Ministers Meeting (TELMIN) in Myanmar, and over the past six years have become the most prestigious in the ASEAN region. In 2018, 98 papers were submitted by ten ASEAN countries, categorized under: Public Sector, Private Sector, Corporate Social Responsibility, Digital Content, Startups, and Research and Development.
AnatomyNow is a mobile phone and tablet version of the "3D Virtual Reality Simulation of the Human Body", developed for use in Health Sciences education and research and developed by a team comprising Dr. Le Nguyen Bao, Le Van Chung, Trinh Hiep Hoa, Le Khac Trieu Hung, Nguyen Luong Tho, Nguyen Minh Duc and Le Hoang Quoc Bao.
Eleven of the submissions for awards were Vietnamese, but only DTU's "AnatomyNow" reached the finals. The jury, from ten ASEAN countries, including economically developed China, Japan and South Korea, recognized DTU for the feasibility and practicality of its product, demonstrating the expertise of DTU's researchers in developing useful solutions.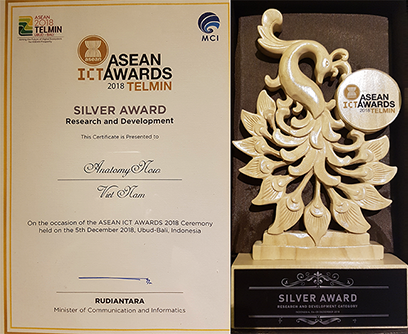 DTU receives a Second Place Certificate (left), with a Mascot (right)
DTU Provost, Dr. Le Nguyen Bao, explained: "The diversity and quality of the papers submitted for awards testify to the brisk development in Vietnam and other ASEAN countries in creating and spearheading more practical technology products for us all. This will provide a strong foundation to support development in many other fields and transform the leading IT universities into incubators of more and more useful ideas."
(Media Center)