DTU Wins Second Prize at the 2018 Loa Thanh Tournament
DTU won a second prize and two Jury prizes at the 2018 Loa Thanh Tournament, making it the university with the most achievements in Architecture and Construction.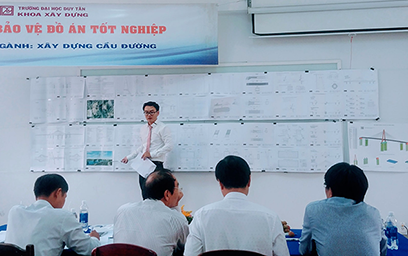 Ho Phung Hoan defends his graduation thesis, entitled "The Song Hieu Bridge"
The annual Loa Thanh Awards are jointly organized for Civil Engineering and Architecture students by the Vietnamese Association for Civil Engineering, the Vietnamese Association of Architects, the Central Board of the Ho Chi Minh city Communist Youth Union and the Ministry of Construction. This year, 154 submissions were received from universities nationwide and 72 received awards, comprising 3 firsts, 13 seconds, 21 thirds and 35 Jury prizes. The awards are very significant for talented and creative students with the best graduation projects because they are then encouraged to enhance their design skills. The competition also helps to discover talented, upcoming young engineers. The 2018 awards ceremony will take place at the Temple of Literature in Hanoi on December 23rd.
Dr. Nguyen The Duong, Dean of Civil Engineering, said: "The many Loa Thanh prizes that students have won in recent years demonstrates the high quality of an Architecture and Civil Engineering education at DTU and is well deserved. Over the past 22 years, the faculty has always set high standards for qualified graduate engineers. The CDIO teaching method has recently motivated our students to put theory into practice, enhance their creativity and perfect their graduation theses as real-time practical projects."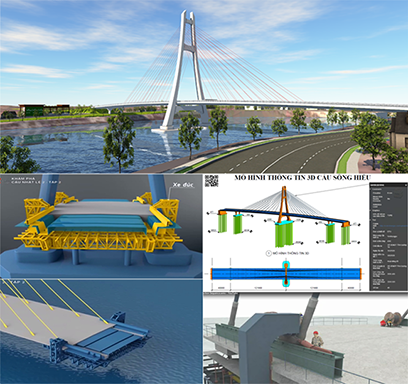 The "Song Hieu Bridge" graduation thesis wins second prize
The "Song Hieu Bridge" thesis, developed by Ho Phung Hoan, won a second prize. Hoan designed a cabled-stay bridge with very few pier columns, using the Building Information Modeling, or BIM, software. This is a new approach in construction design and facility management, where digital representations of the building process are used to facilitate the exchange and interoperability of information in digital format. The Faculty of Civil Engineering also uses other software, such as MiDas Civil, Pilling and spColumn in its curriculum. Recently, companies have encouraged students to explore various software systems and are offering full employment to those who have mastered the BIM technology.
Ho Phung Hoan said: "I put my heart and soul into this project. The Song Hieu Bridge will make a major contribution in improving the transportation system in Dong Ha by reducing traffic on national route #1 and by beautifying the city, which is why I decided to work on this project. I am so happy to receive the award and would like to thank my DTU lecturers and the CIENCO 5 company where I interned".
Another two DTU projects, the "Kim Bong Carpentry Museum", by Le Duc Hoan, and the "Da Nang International Airport Building" project, by Nguyen Van Chung and To Van Khai, won 2018 Jury awards.
For further information about Civil Engineering and Architecture education at DTU, please visit: The Faculty of Civil Engineering and The Faculty of Architecture.
(Media Center)