"A 3D Real-life Imaging Technology Application for Healthcare Study and Research" is included in the 2018 Golden Book of Vietnamese Innovation
The 2018 Vietnamese Golden Book of Innovation, documenting leading innovative technological projects was first published on August 30. A ceremony was organized by the Vietnam Fatherland Front, the Vietnam Union of Science and Technology Associations and the Ministry of Science and Technology.
On behalf of DTU researchers, Dr. Vo Thanh Hai, DTU Vice-Provost, received the award for their notable project "A 3D Real-life Imaging Technology Application for Healthcare Study and Research."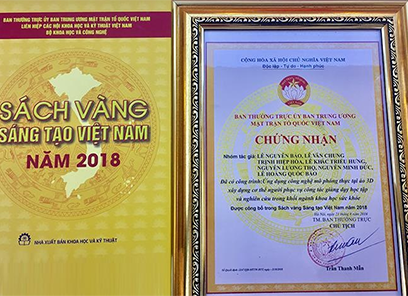 The 2018 Golden Book of Vietnamese Innovation and the DTU Research Certificates
The Golden Book was released on 73rd Anniversary of Vietnam National Day and lists projects which won awards in contests organized by ministries of the Vietnam Fatherland Front, in provinces and cities directly controlled by the Central Government since 2016. These projects have been recognized as solutions that significantly advance social and economic change.
The DTU researchers working on the 3D imaging project were led by Dr. Le Nguyen Bao and included Le Van Chung, Trinh Hiep Hoa, Le Khac Trieu Hung, Nguyen Luong Tho, Nguyen Minh Duc and Le Hoang Quoc Bao. The application is highly regarded for its contribution to the teaching of medicine and won an Award of Excellence at the 2016 Young Intellectual Contest for Education, first prize in the 2017 Vietnamese Talent contest and the Sao Khue award for software excellence in 2018.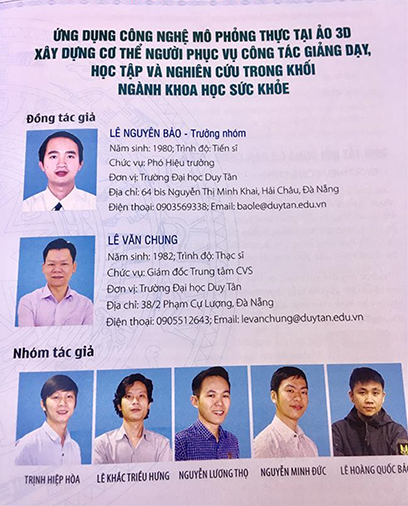 The DTU Project Team
3,924 simulations have been developed so far to simulate the exact Vietnamese anatomical characteristics. The application models human systems and organs, including the skeleton, muscles, vascular system and heart, the nervous system and the brain, allowing detailed views of specific anatomical details. It is also possible to interact with the system directly, to rotate, hide, display, move, mark and demonstrate movements in 3D, in conjunction with auxiliary equipment. Medical schools are now able to view the body from different angles in order to boost the confidence of their students and prepare them for practical medical careers in the future. Sample data can be researched in English, Vietnamese and Latin, helping to provide a broader understanding of the human body and replace traditional theoretical teaching methods that still exist in several Vietnamese medical schools.
Mr. Le Van Chung said: "The application has been employed in teaching Health Sciences at DTU and students can study anytime, anywhere. The application teaches students how to visualize each organ and specific anatomical detail, allowing direct interaction by rotating, hiding, displaying, moving and marking using a 3D projector, 3D or VR glasses, desktop and handheld computers, and smartphones. In the future, the application will be expanded to simulate complex diseases. In addition, because of its versatility, DTU is planning to provide the application to high schools, other universities and hospitals to teach Biology and Anatomy."
(Media Center)