Four DTU teams Advance to the 2018 "Go Green in the City" Finals
The national finals of the 2018 Go-Green-In-The-City contest was held at Schneider Electric Vietnam on July 17 and the winners will advance to the East Asia Finals on August 21. Four of five finalists come from DTU, the Cute Kitten from Civil Engineering, the Smart Proof and Energy Loop teams from Electrical Engineering and a Business Administration team.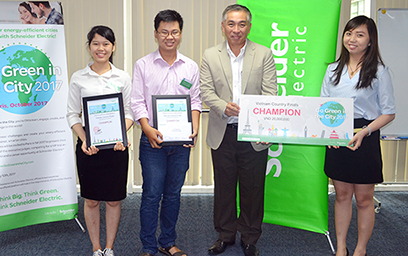 Nguyen Thi Thanh became a Go Green in the City champion in 2017
The global competition enables Engineering students to develop innovative Energy Management solutions for "Smart Cities", provides them with a clearer understanding of the current global energy environment and allows them to partner with other students worldwide to become future market leaders. Meanwhile Schneider Electric is able to identify, employ and train promising and talented participants.
Fifty national teams competed this year. They were instructed to present research papers on creative energy management solutions from one of four categories: Sustainability and Integration, the Digital Economy, the Smart Supply Chain and Cybersecurity.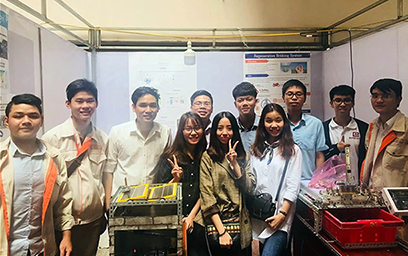 Anh Minh (second from left) and Thanh Thao (middle), from the Smart Proof team, advance to the finals
In 2016, DTU won the national championship and were runners-up in the East Asia contest, with their project "A solution for Eco-friendly shrimp farming with zero water replacement". The next year, their "Toilet Mini-Generator" project won the champion's cup.
Teams winning the national finals will move on to the East Asia finals and then to the global finals, to be held in the USA in November 2018
Nguyen Thi Thanh from the Energy Loop team said: "DTU students learn using the international CDIO (Conceive - Design - Implement - Operate) and PBL (Problem-Based Learning/Project-Based Learning) teaching methods. Consequently, they become confident, and successfully participate in national and international competitions. I gained much experience competing in the 2017 contest and we hope to work hard to achieve high results again this year".
(Media Center)