Two Vietnamese Researchers Honored by the United Kingdom
On September 18, in commemoration of the 45th anniversary of UK - Vietnam diplomatic relations, Dr. Duong Quang Trung from Queens University in Belfast and DTU researcher Dr. Vo Nguyen Son were honored for their significant contribution in research.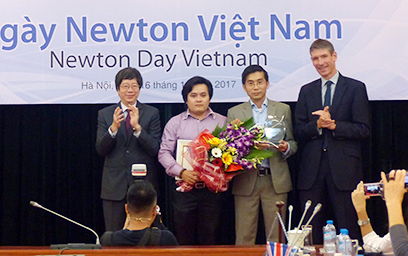 Dr. Duong Quang Trung (second, right) and Dr. Vo Nguyen Son (second, left)
Dr. Duong Quang Trung and Dr. Vo Nguyen Son and several other researchers at Queens University and DTU collaborated on a project to improve communication systems in unmanned aerial vehicles (UAVs). They won the 2017 Newton Prize and £200,000 from the UK government for the development of a new communication system that can work in extreme weather conditions and natural disasters.
The UK Ambassador to Vietnam, Gareth Ward, said: "The Newton Fund has created new opportunities for joint research between the UK and Vietnam. I would like to acknowledge Dr. Trung and Dr. Son, and DTU in particular, for their research on 'Building a Sustainable Communications Networking Foundation for Cities of Tomorrow', which won the prestigious Newton Prize last year."
Two hundred projects were submitted and Dr. Duong Quang Trung and Dr. Vo Nguyen Son's project finished in the top five.
"We will continue to develop our project to the next step by using UAVs in mission critical communications in disaster management," said Dr. Duong Quang Trung.
"We are honored to be recognized for our contributions at this important celebration," Dr. Vo Nguyen Son said. "This gives us all the encouragement we need to continue our work to find suitable communications solutions to use during natural disasters, which are occurring with ever greater frequency and impact in Vietnam today."
(Media Center)