Danang Grants Awards to DTU Researchers in 2018
On November 10th, the Danang People's Committee held a ceremony to recognize the seventy-two local individuals and teams who made the greatest contributions in Science and Technology in 2018.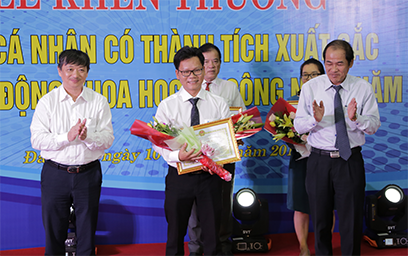 Mr. Le Van Chung, from "The Use of 3D Virtual Reality Technology to Simulate the Human Body" project
The Danang People's Committee presents awards annually to the leading local Science and Technology projects and submissions have been growing steadily. In 2016, there were 129, 179 in 2017 and 224 in 2018. Qualifying entries are sent to the committee for appraisal and 72 individuals and teams were honored this year with awards totaling 216,840,000 vnd.
Certificates of Merit were awarded to the most socially beneficial projects and also granted Intellectual Property Rights by National Office of Intellectual Property of Vietnam. Recipients from Duy Tan University included Dr. Le Nguyen Bao, Le Van Chung, Trinh Hiep Hoa, Le Khac Trieu Hung, Nguyen Luong Tho, Nguyen Minh Duc and Le Hoang Quoc Bao. The "Use of 3D Virtual Reality Technology to Simulate the Human body for Health Science Education and Research" project won first prize in IT at the 2017 Vietnam Talent Awards and the 2018 Sao Khue award.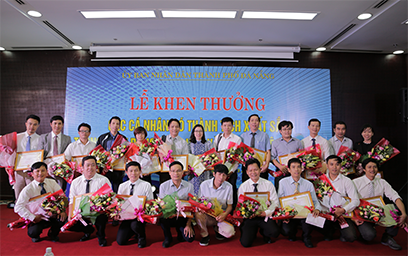 DTU researchers at the event
The 113 best ISI publications received awards, with 60 going to DTU researchers. Many of DTU publications were published in journals with high Impact Factors, including "An Effective SVM Method for Matrix Converters With a Superior Output Performance", by Dr. Nguyen Hu Nhan, in IEEE Transactions on Industrial Electronics, with an IF of 7.168, "An SS Bayesian Framework Based on Gaussian Mixture Model and Radial Basis Function Fisher Discriminant Analysis for Flood Spatial Prediction (BayGmmKda V1.1) for Spatial Prediction of Floods", by Dr. Hoang Nhat Duc, in the Geoscientific Model Development, with an IF of 3.549, and "The Effect of Micro/Nano White Bamboo Fibrils on the Physical Characteristics of Epoxy Resin Reinforced Composites", by Dr. Le Hoang Sinh, published on Cellulose with an IF of 3.417.
Dr. Le Nguyen Bao, DTU Provost, said: "We worked on our 3D Virtual Reality project for five years and it has been highly recognized for its positive contribution in Medical education. We hope that it will now be adopted in big hospitals, health clinics and medical centers to improve healthcare in Vietnam".
The objective of the awards for outstanding achievements in Science and Technology is to motivate local researchers to continue developing more practical applications to benefit the community.
For further information about research publications by Vietnamese Universities, see:
Scientific Research
(Media Center)