DTU Lecturer Honored as "Typical Teacher of Danang"
On November 16, a ceremony was held to recognize outstanding teachers who have made significant contributions to education in Danang. A DTU Ph.D. student and Accounting lecturer, Mai Thi Quynh Nhu, was named "The Typical Teacher of Danang" by the Danang Department of Education and Training.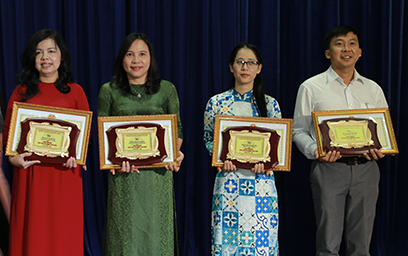 Mai Thi Quynh Nhu, second on the right
To qualify for this title, teachers must be proactive, dedicated, hard-working, reliable, adept at using IT in the classroom and always searching for innovative ways of improving the quality of education.
Teaching at DTU for over 10 years, through her dedication and professionalism, Ms. Mai Thi Quynh Nhu has achieved many successes, including another title as the "The leading Union member", awarded by the Education Union of Vietnam, every year, from 2012 to 2017. Also "The individual who most excels in the betterment of our university", and first prizes in 2015, 2016 and 2017 in Business Relations. Ms. Mai Thi Quynh Nhu also published papers in the Banking Review in 2012, with topics such as "Ways of increasing lending in credit institutions in the Danang region" and "Dealing with loan collateral in Danang banks, experiences and solutions".
Ms. Mai Thi Quynh Nhu said: "I always expect my students to acquire the latest information and demonstrate their talents. I have been making sustained efforts to improve their qualifications and help them whenever necessary. I always establish detailed working schedules with clear targets. I always remember that my students will only succeed if I am an expert lecturer and I have tried my best to achieve this. To be named "The Typical Teacher of Danang", I was ably supported by the DTU Board and my colleagues in the Faculty of Accounting. Winning the title has motivated me to work even harder to become a lecturer who is fully respected and trusted by students, colleagues and the university alike."
(Media Center)