DTU Wins 2018 GDG Devfest Championship
The DTU Wiinav team won first prize at 2018 GDG Devfest competition, held from November 30 to December 2. After 48 hours of non-stop programming, the team presented their impressive "Community Map" application.
Dr. Anand Nayyar, is a DTU lecturer and a mentor at the competition this year. He said: "I am impressed with the students' achievements, which can be considered as the starting point of their future careers."
The GDG DevFest competition was jointly hosted by the Mien Trung Google Developers Group (GDG) and the Danang Entrepreneurship Support organization(DNES), with 600 attendees.
First prize is awarded to the Wiinav team
100 programmers and 30 mentors worked throughout the 48-hour contest. Afterwards, the 10 best projects from the 16 Hackathon groups were selected for presentation on the Demoday. They all demonstrated the depth of the research, teamwork and commitment put into the transformation of Danang into a technologically and youthful Smart City. Projects included "A smart parking solution"; "Electioneering"; "An application for making appointments and obtaining queuing tickets at public offices"; "An application to manage the streets, using traffic lights and surveillance cameras"; "A tsunami and bad weather warning system for fishermen"; "Sharing hostels" and "Chatbot".
The Wiinav team included Ngo The Linh, Pham Tan Tai, Bui Vinh Phuc and Vu Truong Giang. Their "Community Map" application has the same basic functionality as a normal map but allows the users to request assistance, give their own traffic reports and recommend places, such as restaurants and gas stations.
Bui Vinh Phuc said: "Our group often end up in unexpected situations, running out of fuel, getting flat tires far from a repair shop, getting stuck in traffic jams and so on. We came up with the idea of a "Community Map" system, which allows travelers to communicate with each other for help or traffic reports, to save valuable travel time. We all agreed however that we did not need to create a new technology, but could use existing ones to develop a useful and practical solution for the community."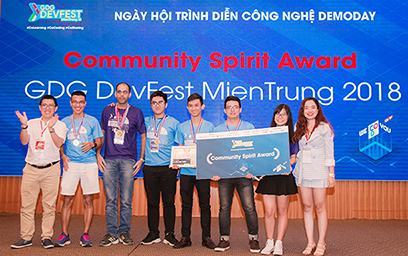 Dr. Anand Nayyar (third from left) with the team he mentored
Dr. Nayyar also mentored teams from HCMC and Hanoi with their "Smart City Monitoring" project, which won the Community Spirit Award.
(Media Center)