DTU Lecturer Receives Best Paper Award at the International Conference on Data Management, Analytics & Innovation
Dr. Anand Nayyar, a lecturer at the International School and researcher in the Institute for Research and Development at DTU, received a Best Paper award at the recent 3rd International Conference on Data Management, Analytics & Innovation (ICDMAI) in Kuala Lumpur, Malaysia. It was entitled "Effective Classification & Handling of Incoming Data Packets in Mobile Adhoc Networks (MANETs) using Random Forest Ensemble Technique (RF/ET)" in Track IV: "Advances In Network Technologies", and received much positive feedback.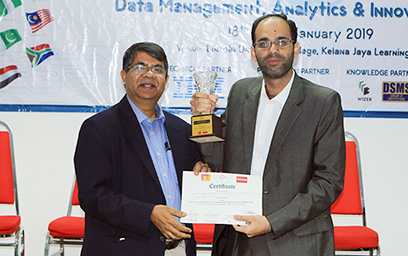 Dr. Anand Nayyar receives his award
The conference was held from January 18 to 20 and organized by the Springer publishing. It was a forum where well-known scholars, researchers and experts in the fields of IT, computational engineering and electronics & telecommunication could meet to exchange information on innovations in data management and analytics. Over 435 abstracts in the fields of data management & smart informatics, big data management, artificial intelligence & data analytics, and advances in network technologies were submitted. The 186 best will be presented at Lincoln University in Malaysia and the leading papers published in Springer's AISC series, indexed by ISI and Scopus.
Dr. Nayyar submitted four reports on Big data analytics, Facial detection, Underwater sensor networks and Mobile ad hoc networks. He proposed a new machine-learning based method to distinguish data packets in mobile ad hoc wireless networks containing a magnitude of information packages. Many of these are however junk or viruses and can seriously affect throughput and performance. Dr. Nayyar's method distinguishes legitimate packets and bans access to the bogus ones.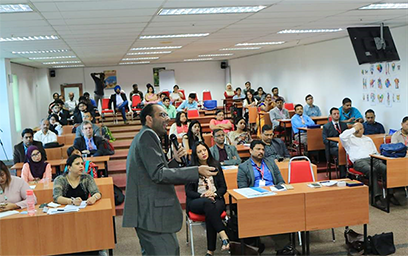 Dr. Anand Nayyar
"It was a really important conference where academics and experts from all over the world could exchange and discuss creative new ideas to the benefit of the scientific research community in general," Dr. Nayyar said on his return. "I was very happy and proud when my name was called out at the conference for the Best Paper award. I would like to take the opportunity to offer my heartfelt thanks to DTU for their support and for creating the ideal environment for my research for the community. In the near future, I will expand my work in information technology and teach my DTU students how to conduct socially relevant research."
(Media Center)