DTU Students Win Third Prize in Tourism Promotion at ASEAN Creative Camp
A group of DTU students won third prize in Tourism Promotion at the ASEAN Creative Camp with their project entitled "From Ancient to Modern Hoi An & Danang". The event was organized by the Centre of Open and Distance Learning of the Southeast Asian Ministers of Education Organization (SEAMEO).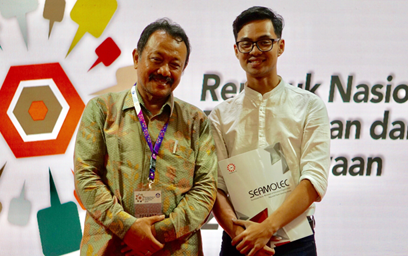 Dr. Gatot Hari Priowirjanto, Director of SEAMEO, awards Phan Cong Hoang his prize
This was the only award presented to a Vietnamese team. The camp provided ASEAN students an excellent cultural exchange opportunity and broadened their international knowledge and experience.
Introducing the Beauties of Hoi An and Danang to the World
The ASEAN Creative Camp was run from October to January in Jakarta, Indonesia and provided courses in several advanced professional skills, such as 3D printing, robotics, fashion-design, game app development, the internet, smart-schools and tourism promotion. During the course, students were examined and rated on their performances. They also had to produce video presentations demonstrating their expertise promoting tourism in their respective countries.
250 teams signed up for the camp, including 197 from Indonesia, 36 from the Philippines, one from Malaysia, two from Thailand and thirteen from Vietnam. Sixty-two videos were accepted. Three students from the American Degree Program (ADP) in the DTU International School, Phan Cong Hoang, Tran Thi Kim Ngan, and Nguyen Thao Nguyen, produced stunning shots of the Danang & Hoi An area, under the guidance of ADP Deputy-Director Le Tuan, who is also responsible for internships.
"I was really surprised," said team-leader Phan Cong Hoang on hearing that his group had come third. "It's a big competition with many strong foreign teams. We wanted to introduce the beauty of Vietnam to the world and we also learned a lot from our foreign colleagues. As second-year students, this prize is hugely encouraging, boosting our confidence and creativity and bringing us even more ideas on how to promote cultural tourism in central Vietnam."
A Chance for Vietnamese students to Reach out to the World
The DTU lecturers and students will have very fond memories of their trip to Indonesia and their award. Phan Cong Hoang will never forget his excitement when he presented his video to the jury in English. His DTU education provided him with his language and presentation skills, a firm grasp of his facts and his self-confidence, which allowed him to score well and gain the recognition of his international friends.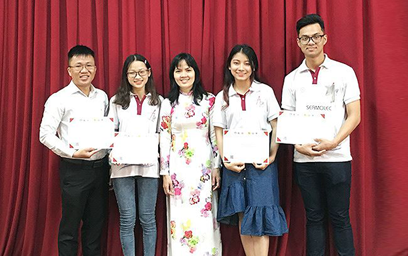 DTU Vice-Provost Le Nguyen Tue Hang, center, with the winning DTU team
After the ASEAN Creative Camp, the DTU participants will be able to study topics of their choice, take part in more international exchanges, and tailor their education for specialized future careers.
The collaboration between DTU and SEAMEO will also foster the development of new and advanced educational programs. Agreements have already been made on several basic elements and the sixth networked meeting "Student Internship Exchange for Southeast Asian Students" will be hosted at DTU from October 16 to 19. The meeting is expected to attract 200 attendees from 100 ASEAN universities and colleges and will be a forum where experts will be able to develop special ASEAN educational programs and open the gateway for Vietnamese students to enter a wider world.
The video "From Ancient to Modern Hoi An & Danang" by DTU students:
(Media Center)