Choosing a Destination for Overseas Studies: We Vote for Taiwan
When considered from afar as a candidate for overseas studies, Taiwan worries us, because of its earthquakes, the language barrier and other drawbacks. People say that, "if you survive Taiwan, you will be confident enough to start working anywhere else in the world," because of the self-discipline required to adapt to living there. However, on arrival, the picture changes. Taiwan is a beautiful country, with a pleasant climate and many fascinating sights to see. There are also several excellent universities there, the people are friendly and hospitable and business ticks along smoothly. Students from all over the world go there and, at the end of her first year of studying for her Master's degree at the China Medical University (CMU), Truong Thi Be Em, who is a lecturer at the DTU Faculty of Nursing, shares her experiences of this wonderful country.
Attending a well-known university
The China Medical University is in the center of Taichung and was founded sixty years ago. The university is conforms to international standards and is now rated sixth in Taiwan. In 2016, CMU ranked in the top 151 to 200 of universities worldwide, 133rd in Clinical Medicine and Pharmacology internationally, and 46th in Asia.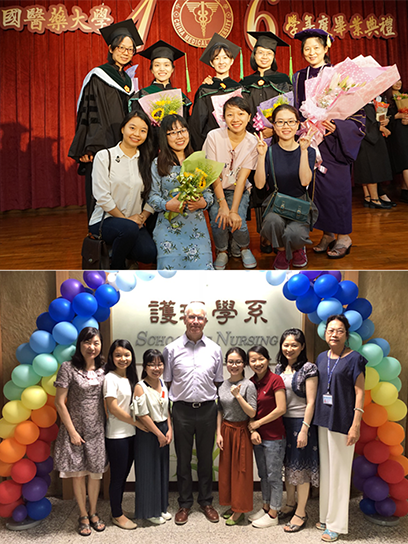 Ms Be Em (second from the right, middle row, upper picture) receiving a Chinese language course completion certificate and (first at the left, lower picture) in the mountains with the people of the Vietnamese Student Association
When she first arrived in Taiwan, Ms. Be Em was worried. "Although I was mentally prepared, I was unable to communicate with the locals because they couldn't speak English," Ms. Be Em explained. "I had memorized a few common Chinese phrases, like 'Hello', 'I'd like this one', 'How much does it cost?' and 'Thank you', which proved useful during my confused early days. When we finally arrived at CMU however, we became completely relaxed because we joined the Vietnamese Student Association, who then helped us solve all our remaining difficulties. There were also many Vietnamese expats living in Taiwan and we were often able to meet them and speak Vietnamese.
Integration was therefore not too difficult for us. In addition, the Master's courses at CMU are taught completely in English, and we are now proficient enough to participate in lectures, discussions and a variety of extracurricular activities held throughout the course. So studying in the CMU Faculty of Nursing has proved to be highly satisfying. Nursing played an important role in the development of the university, which has trained a great many nurses for careers in domestic and foreign healthcare. The Nursing lecturers mostly studied and researched in the UK or the US. The Faculty encourages PhDs and Master's students to become experts in Nursing theory, clinical practice and provide them with all the special support they require in conducting their research projects.
At CMU, we study in modern classrooms and the library feels like home, a spacious treasure trove of books, with comfortable reading rooms. The university hospital is huge and better developed than anyone of us could have imagined. With five thousand beds, it is now the second largest healthcare facility in Taiwan. Our doctors, nurses and students love working there, it's quite miraculous!"
A diverse culture and cuisine
Young and enthusiastic, Ms. Be Em enjoys her life at CMU. Like the other DTU lecturers studying for a Master's degree there however, she does not want to limit her time to the classroom only. They therefore all joined a free Chinese language course, taught by Chinese and Vietnamese teachers.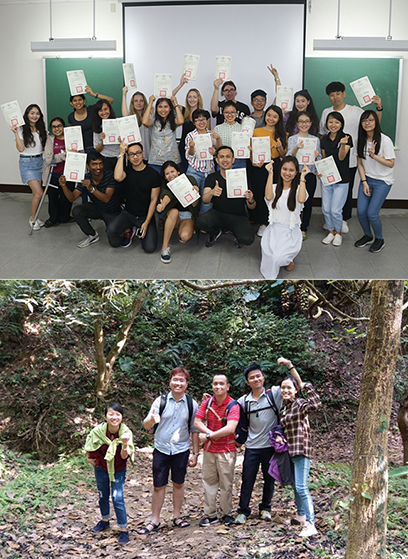 Ms. Be Em (upper, third from the left) at the graduation ceremony where the two DTU lecturers, Pham Thi Ngoc An and Nguyen Thi Huyen Trang, receive their Master's degrees, and at a workshop with experts from the UK
"Starting from scratch, we improved quickly and merged into the local community. At the Faculty of Nursing or in the Chinese classes, we met other international students from a variety of races and cultures. It was like looking out into the world through a kaleidoscope. Once we felt happier with our Chinese, we could start learning more about Taiwan. Taiwan is a beautiful island nation in East Asia, offering offers visitors the surprises of the modern capital city of Taipei, with its countless services and convenient shopping, in harmony with the more traditional and romantic areas, such as the Shifen Old Streets and Jiufen, which are often featured in movies.
Tourists visit spectacular natural sights, such as the Alishan National Scenic Area, the Sun Moon Lake, the Taroko National Park and the National Palace Museum, one of the largest in the world, displaying numerous imperial artifacts. Taiwan is environmentally friendly, with parks in the cities, and trees and plants lining the roads. Tourists also enjoy the rich cuisine and famous tea brands. Bustling night- markets display and sell local specialties at very reasonable prices and tourists are particularly fond of the stinky Tofu that the Taiwanese adore, despite its haunting aroma.
Once we arrived in Taiwan we gradually began to appreciate the special people and their culture. They are courteous, kind and friendly and it's rare to see any disorganization here, thanks to their infinitely civilized and orderly habits, including queuing. Taichung, where we live, is gentle and loveable city, without noisy car horns or traffic jams. Most noteworthy are the public buses and the frequent bus stops, and the lovely symphonic music played by the garbage trucks. Traveling in Taiwan is extremely easy, because public transportation takes you anywhere, by bus, underground trains, high-speed trains and especially public bicycles.
"When you live here, you only need a smartcard, called an EasyCard, to pay for shopping and public transportation. Also, with very little excuse, on any occasion, small or large firework displays are called for. Taiwan is a small island with so many fine and memorable features."
Concerns for the future our homeland
"Since we arrived in Taiwan, we have been indebted to Vietnam, to our parents and DTU. Partnerships with universities, such as CMU, have allowed us to study in a high-quality, international education environment, to discover the world and better ourselves. We heart-fully thank everyone who has helped us get here. If we could vote for our favorite overseas study location, Taiwan would certainly be number one.
Our experiences in Taiwan will enable us to write all about the advantages of living and studying here in our youth, to realize how insignificant we really are and how much more there is to learn. Our professor said that a Master's degree is not a goal, just a stepping stone to even higher learning. This is why we should now work even harder, more seriously and creatively, so we can ultimately expand our intellect to enrich Vietnam."
To improve its education, DTU has collaborations with many universities with large-scale medicine and pharmacy programs in the US, Taiwan, and other places, which allows lecturers and students to go there to study and improve their knowledge and professional skills. After starting collaboration with DTU, CMU awarded full scholarships for six DTU Faculty of Nursing lecturers to study Masters in Nursing at CMU. In 2016, two lecturers, Pham Thi Ngoc An and Nguyen Thi Huyen Trang (who graduated and returned to teach at DTU), went there, and in 2017, four lecturers - To Thi Lien, Truong Thi Be Em, Le Thi Phuong, and Pham Thi Hue, started postgraduate studies at CMU.
(Media Center)