A 2+2 Study-Abroad program with a Canadian University
On March 8th, DTU and Cape Breton University in Canada announced a 2+2 Study-Abroad program and provided details on how students can apply.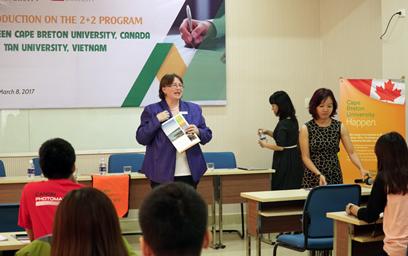 Representatives from Cape Breton in Canada 
Founded in 1953, Cape Breton University (CBU) is a public degree-granting institution, located on beautiful Cape Breton Island, in the province of Nova Scotia, in Canada.  CBU has 5,000 full-time and part-time students, including 1,000 international from 40 countries. The four faculties at CBU are Arts and Social Sciences, the Shannon School of Business, Science and Technology and Professional Studies. The university offers outstanding applied research opportunities to students, and technical assistance to business, industry and communities. CBU's vision of higher education allows students to pursue diverse fields of study, in nationally recognized programs, with high rankings in student satisfaction, faculty-student interaction and employability.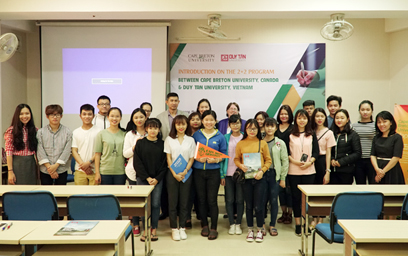 Lecturers from Cape Breton University at DTU 
After enrolling in this 2+2 program, students study for 2 years at DTU and then for two years at Cape Breton University. Applicants must have an IELTS score of 6.5. Each year, CBU grants $1.8 to scholarship programs. Like DTU, they also hold an annual Job Fair to broaden career opportunities for students. 
Tran Thi Nga, a third-year DTU student of English for Tourism, said: "I have always wanted to study abroad and attended the introduction of the 2+2 Articulation Program with CBU today. I was very impressed with educational quality and environment there.  Also, I have relatives in Canada, so Cape Breton would be very convenient for me.  I'm now studying for the IELTS exam to make my dream come true."
Study-Abroad programs for students in the Central Region also include the 1+1+2 with Lorain County Community College in Ohio, the 2+2 programs with Appalachian State University and Medaille College, the 3+1 program with Coventry University in the UK and the 4+1 On-site Study-abroad with Upper Iowa University.
(Media Center)