What is the Advantage of Studying Overseas?
For students, going abroad to study means flying or sailing in a boat on an exciting new journey across oceans, continents and cultures. This unique journey leads them to the "port of knowledge", and, later, with a valuable degree from a well-known university and an overall experience which will enrich their lives forever. Students can learn new things, experience new lifestyles, improve their English and rediscover themselves. This will positively change their thinking and outlook on life, and, only after having lived and studied abroad for a while, will they fully appreciate all the benefits.
Why are overseas studies valuable? The question sound pragmatic. To benefit from studying may be one of the initial objectives, but, first the main requirement is for students to be determined and passionate enough to leap confidently onto remote, strange shores.
Another way of answering the question "What good is it?" may be the best one. Students and parents spend much effort, time and money, so we should really consider how they will benefit from a foreign education. Our forefathers used to say, "Every day we learn a new lesson". In addition, the DTU Learning and Testing Center (LTC) will always be there for you when you decide fly off or sail to new lands.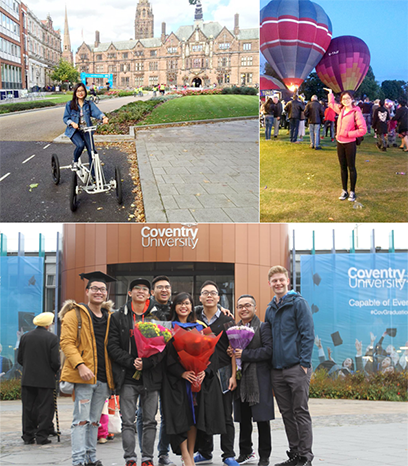 Nguyen Huong Trinh, at top, and Pham Tan, below, on left, join a 3+1 study-abroad affiliate program
Opinions of DTU overseas students in the affiliate 3+1, 2+2, and 1+1+2 programs.
- At Coventry University in England, in the 3+1 study-abroad affiliate program remark:
"I have made new multiracial and multicultural friends."
"Some of my teachers seemed strange at first and there was a big language barrier. However, they quickly made me happy, and helped and supported me like a relative!"
"I live in a small home with my "second FAMILY". We are like brothers and sisters, as close to each other as an ordinary family gathered in a small room."
"We study and learn together, discover a new culture and share and solve our problems together."
"Studying more, sleeping less, missing home, learning to appreciate what I have, going to places of my dreams, unexpectedly enjoying weird food…"
"Many new experiences, learning lessons about behavior."
"A new rhythm, a new way of life, discovering the wide open sky in front to be discovered, then to return!"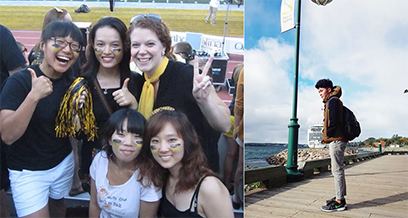 Huynh Thi Hoai Ngan, on left, upper row center, and Phung Nhat Hoang, on right, join the 2+2 study-abroad affiliate program
- At Purdue University and Appalachian State University (ASU) in America, in the 2+2 study-abroad affiliate program say:
"Purdue is really a wonderful university. You should advise other students to choose this school for their overseas studies!"
"ASU's supplementary English program is very good. The program is more difficult than studying in Vietnam, but you make rapid progress. I feel very confident about my English."
"The university's regular program is very good. After graduating in Hospitality and Hotel Management, I feel I can now perfectly manage, maintain and develop my family's company, expanding its scale and making it more integrated."
- At Lorain Community College and several community college partners, students in the study-abroad affiliate program make some very honest and touching confessions:
"I have overcome one of my weakest points, cooking and cooking well. Before it was always my mother who cooked."
"I have managed to come out of my shell. I am more dynamic, confident and integrated. I feel I have grown up and can take care of myself when living in a foreign environment."
"I have made new friends from different continents. Relationships like these helped me change a lot in a completely positive way. I can take care of myself and think for others."
Above are the sharing by DTU overseas students in the affiliate 3+1, 2+2, and 1+1+2 programs.
Or contact: DTU Learning and Testing Center
254 Nguyen Van Linh, Danang
Telephone: (0236).3656110
Hotline: 0906.134.211
Website: http://duhoc.duytan.edu.vn