Overcoming the Obstacles to Studying Abroad
Many students are disheartened by financial limitations and have to give up their dreams of studying abroad.
According to the DTU LTC, here are some of the problems students face:
• High tuition fees: Studying for three to five years at a university in America, Australia, the UK or Canada can cost billions of vnd.
• Complicated visa application: Visa application procedures are complicated, expensive, uncertain and confusing, and differ by country.
• Selecting a university: Often difficult to t select a reputable institution.
• Language barrier: Low IELTS or TOEFL scores makes it impossible for applicants to be granted a visa to study at the best universities.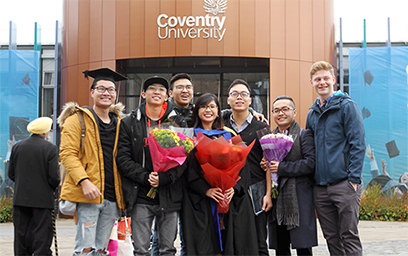 Pham Tan (left), a DTU student in the 3+1 program with Coventry University with friends
To help students overcome these obstacles, DTU offers a variety of joint programs:
-
The 1+1+2 program, with Lorain Country Community and Green River College.
-
The 2+2 with Purdue University, ranked 6th in Technology studies in America, and Appalachian
State University and Medaille College in Buffalo. Students who enroll in the 2+2 program will spend 2 years at DTU and 2 years at the foreign partner university to graduate.
In the 3+1 program with Coventry University in the UK, students transfer abroad after 3 years at DTU and receive a Coventry University Bachelor's degree. DTU students spend 1 or 2 or 3 years at DTU before transferring to a foreign university and can reduce tuition costs by doing so. Students will always be supported by the DTU LTC.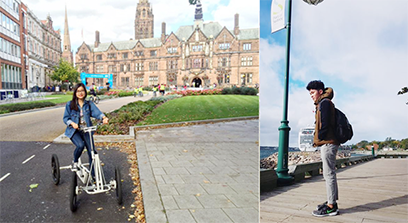 Nguyen Huong Trinh (left), in the 3+1 program and Phung Nhat Hoang (right) in the 2+1 program
The DTU LTC tests student English levels and trains them to achieve the necessary IELTS qualifications to study abroad. IELTS classes are divided into four skill levels and offered in complete classes, in smaller groups or one-on-one. Vietnamese or native English speaking teachers are assigned to optimize time and tuition fees. The LTC Center is also responsible for all DTU study-abroad programs and consults on the foreign visa and university application procedures.
For further information about DTU Overseas Study and DTU LTC, see:
Study-Abroad
and
LTC
.
Or contact: DTU Learning and Testing Center (LTC)
254 Nguyen Van Linh, Danang
Telephone: (0236).3656110
Hotline: 0906.134.211 (Ms Vo Thi Phuong Oanh)
Email: tuvanduhoc@duytan.edu.vn