Three Things You Need to Prepare before Studying Abroad
Former overseas students often say that they became very homesick and sad, not knowing what to do to relieve their depression after long months far from home, despite their desire for a foreign education.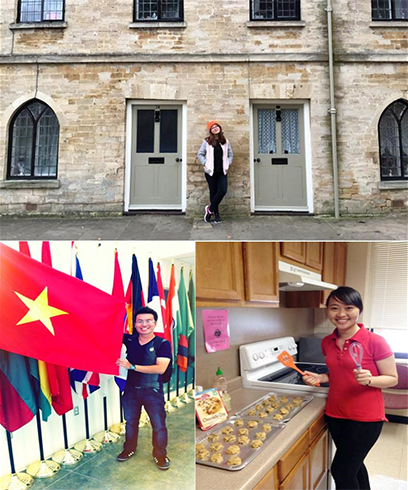 Nguyen Ha Ngan (top) studied a 3+1 program at Coventry University, Truong Cong Thien Hoang (bottom left) studied a 1+1+2 program at Lorain County Community College, and Nguyen Huong Quynh (bottom right) studied a 2+2 program at Appalachian State University.
The following skills are essential before you leave, in addition to your educational ambitions.
1. Communication
DTU has created a multicultural environment where students can meet and get to know people from all over the world to improve their communication, by establishing programs such as P2A, Learning eXpress and student exchanges with universities in Singapore, Taiwan, the Netherlands, the US and elsewhere.
The university also invites foreign professors to teach at DTU, which helps students to improve their English and familiarize themselves with international studies and research in a practical way. This allows them to adapt to a foreign study and work environment in advance and boosts their self-confidence, open-mindedness and communication ability.
DTU also welcomes lecturers from its partner universities to meet with and advise future overseas students every year, which allows them to gain a better insight into the advanced programs, to accelerate adaptation and lessen potential culture shock.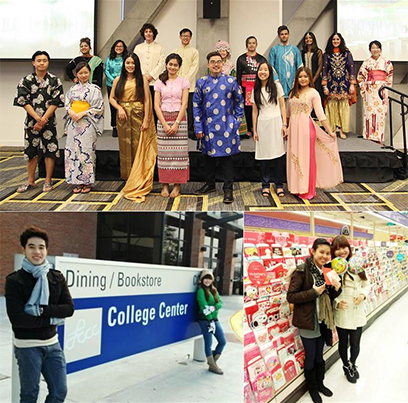 Dang Van Loi (top, blue and white traditional dress) of 2+2 program at ASU, Thuan Khang and Dieu Linh (bottom left) and Khanh Tien and Khanh Tam (bottom right) of 1+1+2 programs at LCCC.
2. Time management
It has been seen that Vietnamese students must improve their time management skills to balance studies and other activities. In the West, students acquire these skills from a very early age. However, if students are not really ready to live abroad independently, choosing one of DTU's Overseas Linking programs for the first one or two years would be the best choice to get used to an international university environment at one of DTU's partners, such as LCCC, Purdue University, ASU in the US, Coventry in the UK or Cape Breton in Canada.
3. Taking care of yourself
When living abroad students may not be used to the climate or the food in addition to being homesick and under pressure of work. This may cause health or mental problems. Students should learn how to take care of themselves, to remain well-balanced and healthy.
Before leaving, students should find out about insurance, health care, cuisine, housing and also recreational facilities for exercise after hours of concentrated study.
DTU's LTC provides counseling and assistance on applying for student visas and serves as a direct link with partner schools to arrange for airport pick-ups and suitable housing, in or off campus, to reduce student worries during their first days in their new environment.
DTU's 1+1+2, 2+2, and 3+1 overseas study programs ensure that students are fully equipped with the necessary skills and strengths to start overseas studies with peace of mind and the ability to face the challenge. And be assured that LTC will always be there for you.
For more information on overseas studies in the US, the UK, and Canada, visit :
Oversea Study
and
LTC
Contact:
DTU Learning & Testing Center (LTC)
254 Nguyen Van Linh, Danang
Hotline: 0906 134 211 (Ms Phuong Oanh)
Website: http://duhoc.duytan.edu.vn; http://ltc.org.vn/
Email: tuvanduhoc@duytan.edu.vn
(Media Center)