Phan Cong Hoang: A Wanderer, Dreaming of Studying Overseas and Starting his Own Business
He is loved for his online pop song covers, his travel blog and his photographs of beautiful moments in his life. Few people know that Phan Cong Hoang, a tall, refined young man with wandering eyes, graduated high school with a score of 26/30 in the 2017 High Graduation Exam.
He is now a first-year student of Business Administration in DTU's On-Site Study-Abroad program, partnering with Keuka College in America. With a youthful vitality, Hoang confesses his dream of studying abroad to learn how to start up his own business and his joy of being supported and loved by his friends.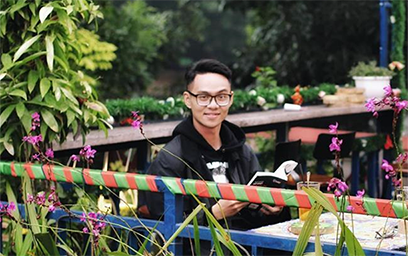 Phan Cong Hoang
Choosing DTU for its international study programs right at home in Vietnam
After one year at DTU, Hoang said thoughtfully, "I had been in Danang before and really liked the city and the people. When I did some research, I discovered that DTU has On-Site Study-Abroad programs with well-known foreign universities, at Keuka College and Troy University, where we can obtain a real US degree. I didn't hesitate and flew from Hanoi to Danang to study. I have an even greater ambition. After overseas studies, I want to start up my own business, so I chose to study Business Administration at DTU. I received a full scholarship for the entire course, so I can have peace of mind."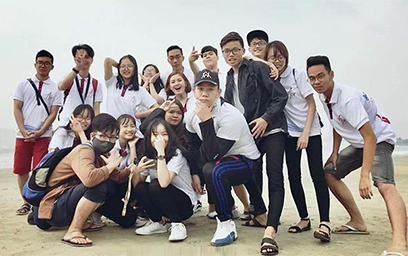 Phan Cong Hoang with his classmates
Hoang shows some pictures he took with his classmates and foreign lecturers, and talks about them intimately, like family. "I enjoy English most of all. At first, we lacked confidence in pronunciation because we were afraid to make mistakes, but, with the encouragement of the lecturers, we tried to make an attempt to say whatever crossed our minds. As a result, after one year, our English has noticeably improved."
A wanderer who likes to sing and go backpacking
Hoang does well in his studies, but does not consider himself bookish. "Sitting in class is important, but learning from life is also vital to shape one's character and gain experience," Hoang says. "This is why I often go backpacking. Each stretch of the road and everyone you meet provides you with new emotions and perspectives on life."
Hoang is crazy for business although he is a freshman. "I am investigating the homestay model to start my own business," Hoang says. "Students should have small but practical dreams, to get started right away. Startups are a trend interesting and attracting many young people nowadays. Hospitality and services are particularly dynamic environments always requiring innovation. This is why simply making a difference can be enough to succeed in this fiercely competitive environment."
Offering to participate in the lives and activities of a local family, homestays have been turning into a wonderful idea for more than a few young people with a passion for business and hospitality. It also offers an opportunity for those passionate about business like Hoang to successfully start their own business already when still a student.
(Media Center)