Seminar on Nutrition's Role in Disease Prevention
On October 19th, the DTU Association for Intellectual Women and the DTU Faculty of Medicine jointly held a healthcare talk entitled "Nutrition's Role in Disease Prevention", to commemorate the 85th anniversary of the Vietnam Women's Union and the 25th of DTU. Dr. Tran Quoc Cuong and Dr. Le Kim Hue from the Ho Chi Minh city Nutrition Center and female DTU lecturers and staff attended.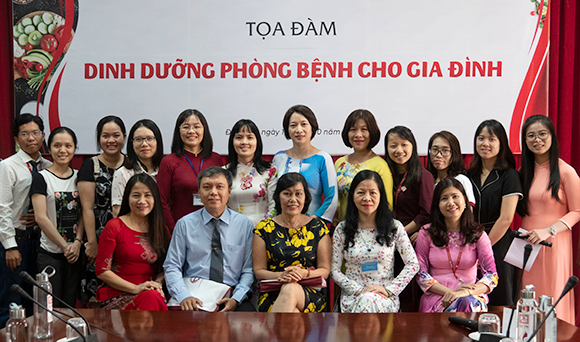 Dr. Tran Quoc Cuong and Dr. Le Kim Hue
Participants learned from the two leading nutritionists about the preparation of nutritious and well-balanced diets and the basic food groups, or the essential "everyday foods". They were also warned about the danger of cancer-causing foods.
"I am delighted to take part in this workshop and speak to DTU's female staff and lecturers about proper nutrition and food safety," said Dr. Le Kim Hue. "In Vietnam, consumers only began caring about healthy eating habits a year or two ago, when they suddenly realized that the nutritional value of each meal was closely related to their personal health and that, by controlling their diets, they could protect themselves and their families from avoidable illnesses."
In addition to the nutritional considerations, the doctors also stressed the need to combine healthy eating with physical exercise, a relaxed mind and enough rest, to avoid or deal with diseases such as cancer, high blood pressure, diabetes, obesity and osteoporosis.
The key to good health and improving the quality of family meals is to establish a suitable diet and select safe and clean produce.
(Media Center)