DTU Celebrates Vietnamese Women's Day
The DTU Youth Union celebrated Vietnamese Women's Day on October 19, so that lecturers and students could get together to share their experiences and solidarity.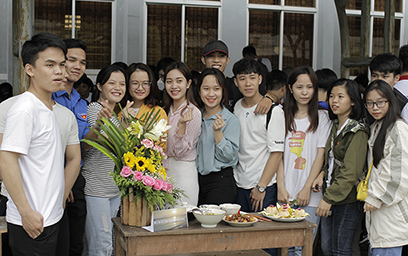 DTU students
They sang lovely songs, like "Viet Nam que huong toi", "Me toi" and "Banh troi nuoc", to honor the beauty of Vietnamese women dressed in traditional clothing, the Ao Dai and Ao Tu Than, and also showing their gratitude and love for their mothers and grandmothers.
Male lecturers and students participated in a cooking contest and it proved difficult to choose between the amazingly delicious dishes, which included braised pork and eggs, vegetable soup, five types of mixed salads, steamed shrimp with coconut juice and chicken poached in coca leaves.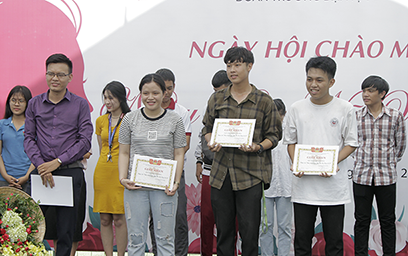 Certificates of Merit awarded to the winning faculties
Colorful Ikebana flower arrangements highlighted the room, each having a different way of celebrating the beauty and goodness of Vietnamese women.
Tran Van Kien, from K23KKT2, said: "On this day, I wish all female staff and students health and happiness and hope that the university will hold more exciting events like this one for us to get together and demonstrate our talents."
Certificates and gifts were awarded to faculties with the best performances:
| | | | |
| --- | --- | --- | --- |
| Category | First prize | Second prize | Third prize |
| Music | The Faculty of Pharmacy | The Faculty of Accounting | The Faculty of Law |
| Cooking | The Faculty of Accounting | The Faculty of Business Administration | The International School |
| Ikebana | The Faculty of Hospitality | The Faculty of Accounting | The Faculty of Environmental and Chemical Engineering |
| Teamwork | The Faculty of Accounting | The Faculty of Pharmacy and Hospitality | The International School, The Faculty of Law and Business Administration |
(Media Center)