A drop of blood you give, a life stays
On January 5th, DTU partnered with the Department of Hematology and Blood Transfusion to hold a blood donation day. DTU was the first university to hold a blood donation program in 2018 and collected 400 units.
Held three times a year, DTU's regular blood donation program partly contributes to solving blood banks' shortages and demonstrated the humanity of DTU students toward society.
DTU students donating blood in the DTU school-yard
Le Hong Tu, a third-year student of the DTU International School said: "I was very happy when I learned about DTU's blood donation day. I am still young, so I would like to do small things to help the community. I think this will be the foundation to start doing bigger things".
Le Thi Hoang Nhung, a final-year student of the Department of Humanities and Social Sciences, registered to take part in this activity many times, but this was the first time she overcame herself to give blood. This will be an unforgettable memory for her.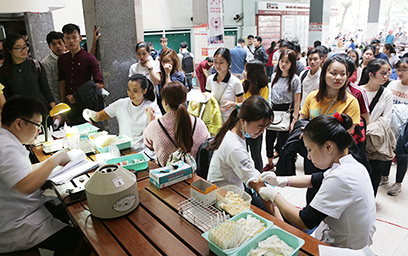 Doctors instruct students on how to donate blood
The blood which was donated can save many lives. It is awesome that DTU students' blood can contribute to help sick patients. Let's participate in forthcoming blood donation programs to share the love.
(Media Center)