DTU Aims to Enter the Time Higher Education Top 300 Ranking of Asian universities
On October 15th, the DTU Trade Union held its 7th Congress for the 2017-2020 period. Fifteen representatives were voted onto the new executive board.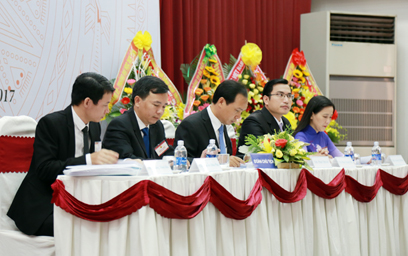 DTU aims to enter the list of the top 300 ranking Asian universities between 2017 and 2020
From 2012 to 2017, the DTU Trade Union has been working to protect workers' rights and has significantly contributed to DTU's development. More than 75% of the total of 1,000 DTU lecturers and staff are members of the Trade Union, with female enrollment contributing to 54% of that.
Thanks to the DTU Board and hard work of the Trade Union, the lives the lecturers and staff have improved considerably. For example, their average 2016 income was $7,000. Next year, the Union will continue to protect and advance the interests of the lecturers and staff and make a positive contribution to establishing DTU as one of the top 300 Asian universities.
The Vietnam National Trade Union of Education and Training and the Danang Labor Union also awarded Certificates of Merit to twelve divisional trade unions and trade unionists for their significant achievements.
(Media Center)