The 2018 "I love my Fatherland" Journey
On November 27th, the closing ceremony of the 2018 "I love my Fatherland Journey" program was held at DTU. With the theme "Young People Participating in Innovative and Creative Startup Activities', the event attracted 100 innovative startup developers.
The program was held from 18 - 27 November in 11 provinces and cities nationwide, including Hanoi, Hai Phong, Nghe An, Quang Binh, Thua Thien Hue, Danang, Quang Nam, Phu Yen, Lam Dong, Ho Chi Minh City and Can Tho, then stopped in Danang. Entitled "Youth Creativity, Innovation and Start-ups", this year's journey was held by the Central Vietnam Youth Federation, the Ministry of Science and Technology, the Start-up Investment Club, the Association of Young Vietnamese Entrepreneurs and Viettinbank.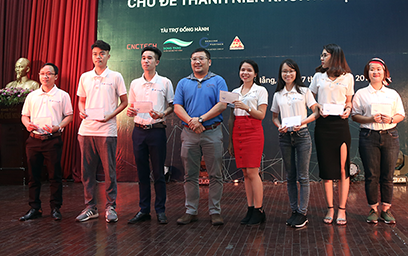 Teams receive prizes in the Minigame
Participants discussed the strengths and weaknesses of each province and how they affect the local economy, business operations and consumer markets. The travelers took part in several successful start-up models and talk shows, together with experienced professionals from resource management, e-commerce and intelligent agriculture.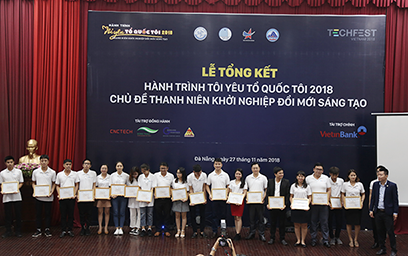 Members of the 2018 "I love my Fatherland journey" receive certificates of participation
Many outstanding projects, such as the Red Artichoke project, a smart agriculture solution, and the Lang Son Tourism project, were praised.
Vu Diep Hoang Thuong from Thu Dau Mot University said: "Over the past ten days, my friends and I learned and experienced how to conceive, manage and research future business opportunities. We were motivated by the quality of practical community startup projects. I will personally begin to implement my startup idea, which I hope will be accepted for investment next year".
The journey helped entrepreneurs learn more about startups and the required skills. It also reminded potential investors to consider financial assistance for startups. Meanwhile, participants were able to review some new startup models and visit some successful startups around the country.
(Media Center)