Promoting Student Exchange Activities in Southeast Asia
On October 17th, DTU and the Southeast Asia Ministers of Education Organization (SEAMEO) jointly held the 6th SEAMEO Polytechnic Network Meeting. Vice Chairman of the Municipal People's Committee Le Trung Chinh attended.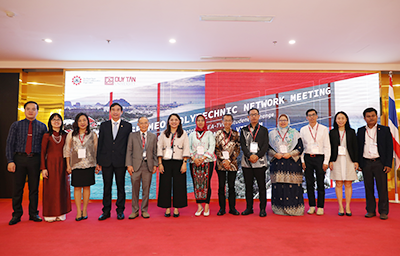 The delegates pose for a picture at the opening ceremony
The 6th SEAMEO Polytechnic Network Meeting attracted a total of 160 delegates from 64 educational institutions based in Indonesia, the Philippines, Thailand, and Viet Nam (DTU, Van Lang University, the Academy of Finance and Hue Industrial College).
Taking place from October 16th to 19th, the event aimed at sharing the successful practices of student exchange programs from the participating institutions; reviewing and evaluating the implementation of the 4th batch of SEA-TVET student exchange and enhancing collaboration in the aspects of education, science and culture amongst universities and colleges in Southeast Asia and SEAMEO's partners.
Founded in 1965, SEAMEO is an intergovernmental organisation of the 11 Southeast Asian countries, including Brunei Darussalam, Cambodia, Indonesia, Laos, Malaysia, Myanmar, the Philippines, Singapore, Thailand, Timor -Leste and Vietnam, which promotes educational, scientific and cultural cooperation in the region.
(Media Center)