Four DTU Teams Advance to the 2019 National "Go Green in the City" Finals
Schneider Electric has launched the 9th annual "Go Green in the City" competition, an international event where engineering students develop intelligent energy management solutions for "Smart Cities". On June 26th, the five finalists were announced, including four from DTU.
Over the past 8 years, 40,000 students from 3,190 universities in 180 countries with 2,840 innovative projects have participated in the competition, which provides contestants with a broader understanding of the current global energy environment, who can then partner with each other to become future market leaders. Meanwhile, Schneider Electric can identify, employ and train promising, talented participants.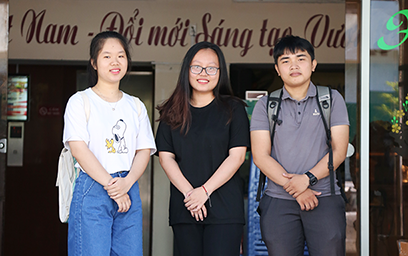 Representatives of the DTU teams: Vo Thi Tu Vy, Doan Thuy Linh and Vo Minh Vuong
Teams present their solutions to develop smarter, more energy-efficient cities and are composed of two students from accredited institutions who are studying business, engineering, physics, computer science, mathematics and other sciences, from the same country or region. Each of the teams must include at least one female member, in line with Schneider Electric's policy of promoting Diversity & Inclusion.
In 2019, the competition will become even more popular because of the four specialized talking points: "Buildings of the Future", "Plants of the Future", "Grids of the Future" and "Sustainability and Access to Energy".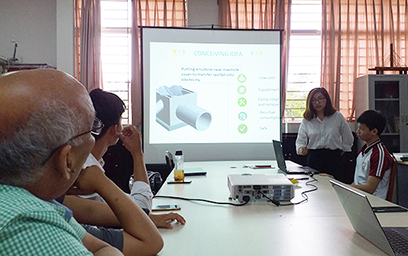 Le Thi Thu Ngan presents her project: "Harvesting energy from sewers"
The four teams progressing the National finals are students of DTU ADP program and Electrical Engineering. They are the DT Energy team of Vo Minh Vuong and Doan Thuy Linh, with "Harvesting electrical energy from motorbike exhaust"; the H2T team of Doan Quang and Nguyen Thien Ngoc, with "A smart system for measuring electrical energy and collecting data"; the Natural Energy team of Vo Huu Phuc and Le Thi Thu Ngan, with "Harvesting energy from sewers"; and the Minh - Vy DTU team of Tran Anh Minh and Vo Thi Tu Vy, with "Renewable energy from hot exhaust fans".
A member of the DTU Natural Energy finalists, Le Thi Thu Ngan, scored 28.5 on enrollment and won a full scholarship for the Troy University accredited degree Hospitality and Hotel Management program.
Previously, DTU won the competition for three consecutive years, overtaking several strong teams from other Vietnamese universities. In 2018, the DTU Energy Loop team of Doan Thi Thu Ha and Nguyen Thi Thanh progressed to the world finals in Atlanta and won a "Women in Business" award with their "Braking system that converts friction into electrical energy" project.
The national finals of the Go-Green-In-The-City will be held in Ho Chi Minh city on July 19.
(Media Center)