DTU Students Win Consolation Prize at STR Asia Pacific Market Study in Hong Kong
DTU students won a Consolation prize at the 2019 STR Asia Pacific Market Study competition on May 21 in Hong Kong, with a detailed report on the Hospitality and Tourism industry in Danang.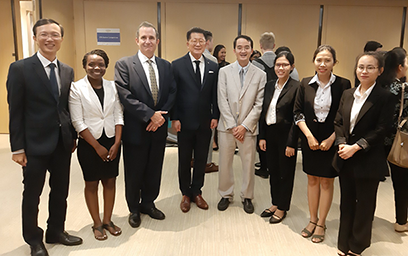 DTU lecturers and students, with Mr. Steve Hood, Senior Vice President of Smith Travel Research (third from left) and Professor Kaye Chon, Dean of the School of Hotel and Tourism Management at The Hong Kong Polytechnic University (fourth from left)
This annual event for Hospitality students was first held in New York in 2015 but this was the first time in Asia. Thirteen teams from institutions in the USA, the UK, Australia, Canada, Japan, China, the Philippines and Vietnam participated, and DTU was the only Vietnamese contestant.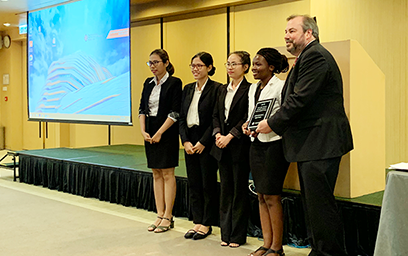 Mr. Duane Vinson, Vice President of Smith Travel Research and Assistant Director of the Share Center, awards Consolation prizes to DTU students
Before flying to Hong Kong, the contestants had two months to research volumes of information provided by STR on the Hospitality industry in Danang and analyzed market performance, market segmentation, current trends and future development. The team members were Trish Mahuta, an international student, and graduates Nguyen Thi Minh Thao, Nguyen Thi Hong Nhung and Truong Thi Thuy Nhi.
In addition to the data provided, such as the number of available hotels, the number under construction, room capacity, average prices and occupancy rates, the team also used data from the Danang Department of Tourism to give a more in-depth analysis and conclusions on the Danang Hospitality market in particular, and the Danang tourism industry as a whole.
Their report specifically highlighted some of the key factors in Danang, such as the rapid growth of international visitors and large resorts, the number of international tourism events and so on. The team did a thorough job and confidently presented their findings. They received high praise from the jury and a Consolation prize.
Nguyen Thi Minh Thao said: "We all worked very hard before going to Hong Kong. We had to organize the data, analyze and evaluate it and come to a precise conclusion. We were able make new foreign friends, broaden our knowledge and improve our teamwork, data analysis and English skills."
(Media Center)