Exchange on "Morality and Humanism - Cornerstones of Development"
On August 4, DTU, the Van Hoa newspaper and Newsthoidai held a meeting on "Morality and Humanism - Cornerstones of Development".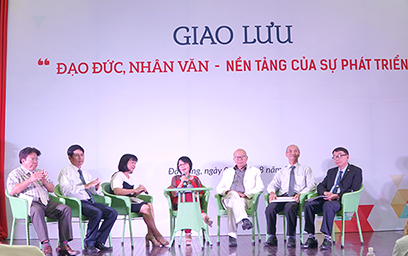 Invitees
The topic is very broad but the center of much public attention. Attendees were able to listen to the many opinions of experts in this field. Among these were Distinguished Artist Huynh Van Hung, Director of the Danang Department of Culture, Sport and Tourism; Hue University Provost, Professor Nguyen Quang Linh; Journalist Chu Thi Thu Hang, Editor-in-Chief of the Van Hoa newspaper; the Training Director of the Quang Nam Department of Education, Mr. Ha Thanh Quoc; the Deputy Head of the Danang People's Committee Publicity Department, Mr. Vu Hung; and Professor Nguyen Dang Hung, a Vietnamese Mechanical Engineer at the University of Liege in Belgium.
The presenters believed that there is much evidence to argue that a foundation of morality and humanism is absolutely essential modern times. We are currently plagued by impersonal, deviant and immoral behavior and a good educational environment should endeavor to promote and strengthen these personal characteristics.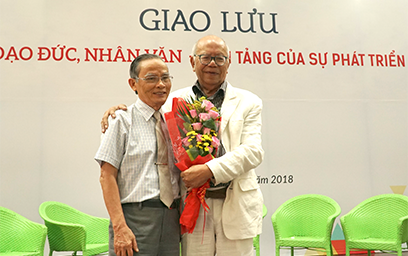 Distinguished Teacher Le Cong Co and Professor Nguyen Dang Hung
Since its inception, DTU has adopted the motto "Education linked with experimentation, founded on humanism" in all of its activities. During the past twenty-four years of humanistic education and research, DTU has graduated skilled professionals who are enthusiastic and humanistic in their lives, with a strong sense of responsibility to the community.
The DTU library specializes in many different types of literature, including a section on "Answering the Call of the Motherland", which houses important documentation on the history of Vietnam. This includes articles on the Patriotic Youth Movement and other information on intellectuals, artists and students in South-Vietnamese cities. Two of these books, "Times of Raising People" and "Times of People's Love", were written by Distinguished Teacher Le Cong Co, former President and Provost of DTU.
They record his feelings on morality, on interpersonal behavior and the love that people feel for each other. This humanitarian spirit created a powerful force that has enabled the Army and the people to jointly repel many invaders. This spirit should still be accumulated today, to correct faulty and deviant ways of living in and viewing the world. This can only be achieved when the government and others work closely together to set policies for the younger generation to fully understand how to behave correctly, in order to continue to create a healthy living environment in future times.
(Media Center)