Carnegie Mellon University Awards Certificates to IT Students
On July 20th, the DTU International School and Carnegie Mellon University (CMU) held a Certificate Awards Ceremony for 50 students of the joint DTU - CMU Advanced Program in Information Technology. On this occasion, DTU students met with Professor Matthew Bass and Dr. John Kang from Carnegie Mellon University.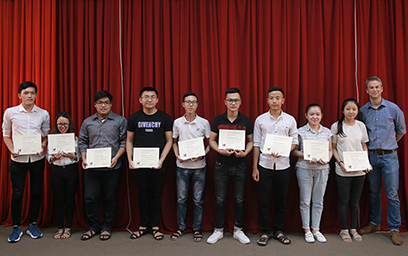 DTU students of the CMU Advanced program receive certificates
Professor Matthew Bass said: "I am quite impressed with the students of the CMU IT Advanced Program at DTU. They are knowledgeable and skillful. I highly appreciate the joint program between DTU and CMU."
In 2007, DTU started to collaborate with Carnegie Mellon University to develop the advanced programs in Software Engineering, Management Information Systems and Network Security. Students graduating from these programs are granted internationally-recognized course-completion certificates.
To help students of Advanced Programs make better preparations for their graduation theses, the International School invited some fresh graduates of the K21CMU course to defend their Capstone innovative project entitled "A Location-based Advertising System".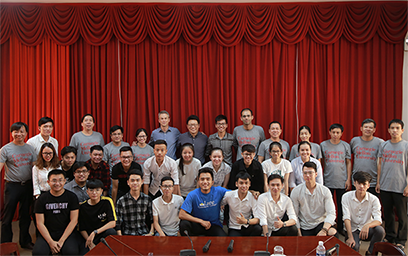 DTU lecturers and students pose for a picture with CMU representatives
Xuan Hiep, a DTU alumnus who works for Enclave, one of the Leading IT Outsourcing Companies in Vietnam, said: "I started working for Enclave as a Software engineer right after graduation in June. What I acquired during 4 years studying at DTU enabled me to meet the stringent requirements of my current job. The program is taught entirely in English using a student-centered, proactive approach, significantly improving our English, which broadens future career prospects for the students."
On this occasion, DTU provided lecturers of the International School and the IT Faculty with a training course on "Software Structure Design" which was conducted by Prof. Matthew Bass.
(Media Center)